It was a good thing we were in a Land Cruiser because there was a definite lack of roads for much of our journey from Maun to a secret destination in the Okavango Delta. Tiko, our guide and co-founder of Afrika Ecco Safaris, navigated the two-track sand roads that ran through the thatched hut villages, calling 'Dumela' to those that waved at him. Soon, cattle, donkeys and goats gave way to buffalo, giraffe, impala and reedbuck as we crossed the vet fence and embarked on an adventure to the renowned Delta paradise of Chief's Island.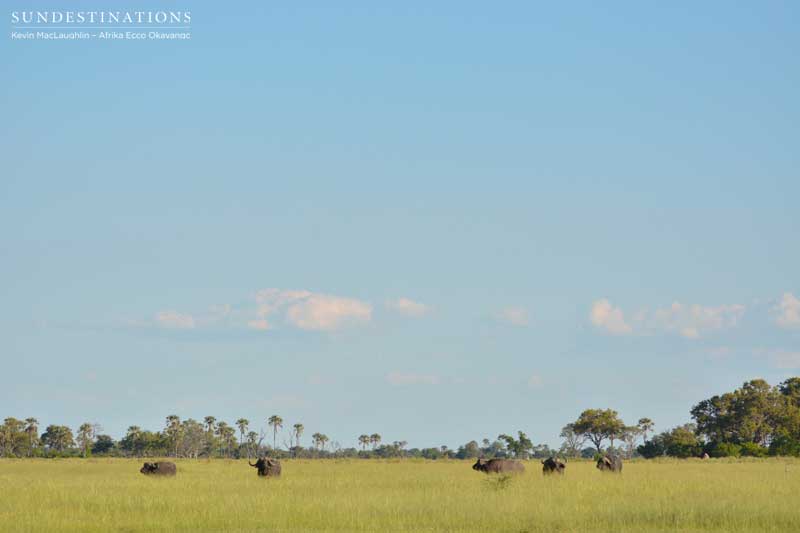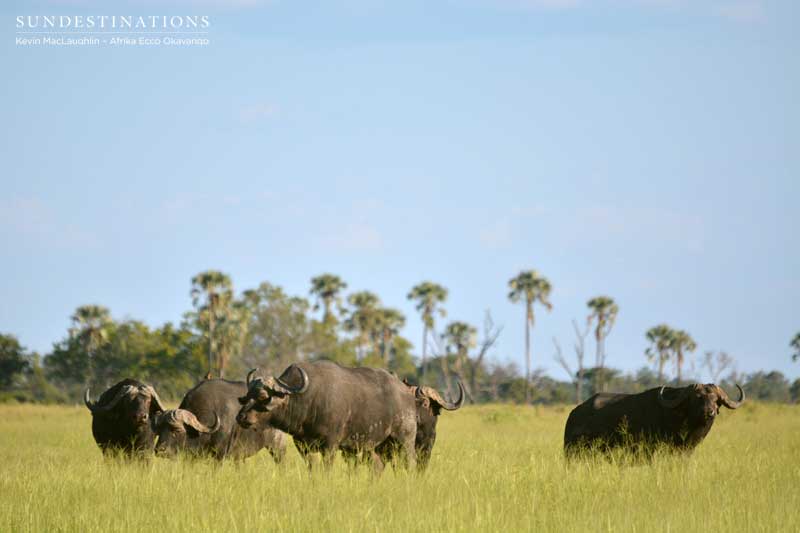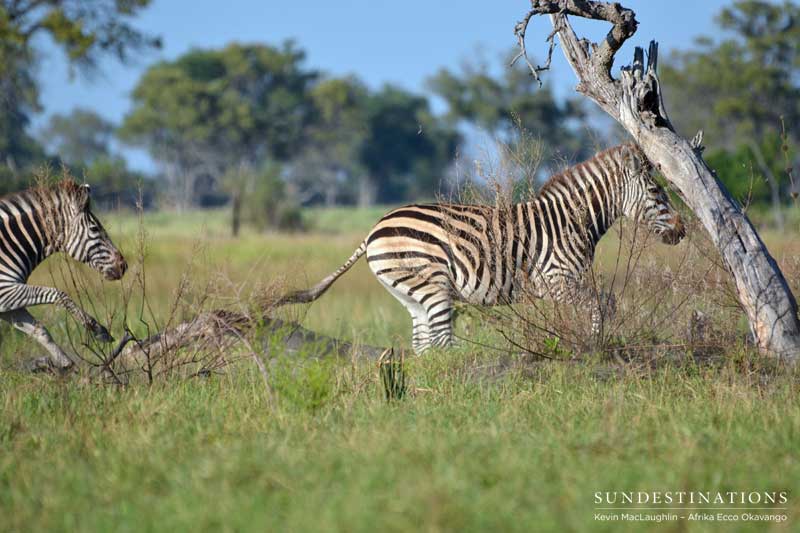 Not far into the reedy growth of unkempt vegetation and onto the first floodplain, we scattered a gathering of vultures – white-backed, lappet-faced, and hooded (we were on a bird count!) – clear evidence of a kill. Tiko and KD, our second expert guide, spoke Tswana to each other and quickly examined the ground before pointing out the fresh remains of an impala. 'Wild dogs,' said KD, and I felt myself become engulfed by the excitement of the wild.
It was a bumpy ride through the dry, summertime Delta; an area which is usually underwater had now become our 'road'. In winter, Afrika Ecco takes its guests out of Maun and into the Delta by boat and then onto a mokoro for the final leg of the trip, but during the dry season it's all done by road.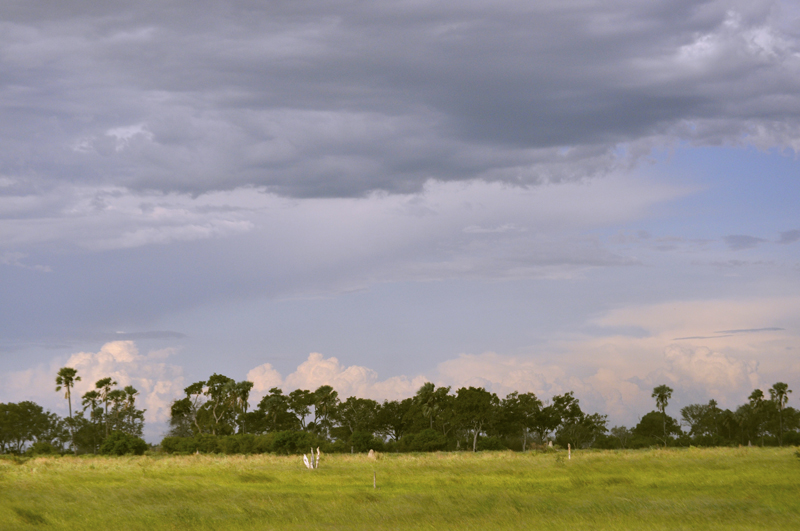 It is difficult to imagine how Tiko and KD knew where we were going with only the evidence of sandy mokoro channels and maze of hippo paths to indicate which areas had been used. Well, that is to the untrained eye, but these guys have grown up in the Delta. Grandparents, parents, and our guides themselves have known the trees, the paths, and the waters of the Delta for generations, and now we were being taken on the most intimate tour of this highly sought after safari destination.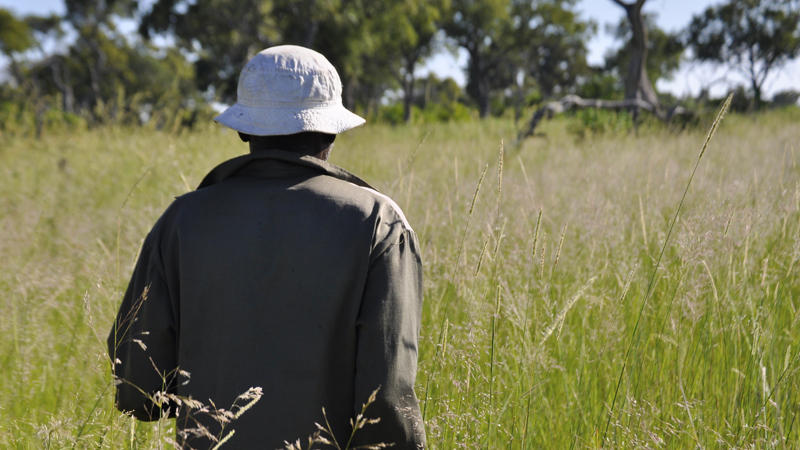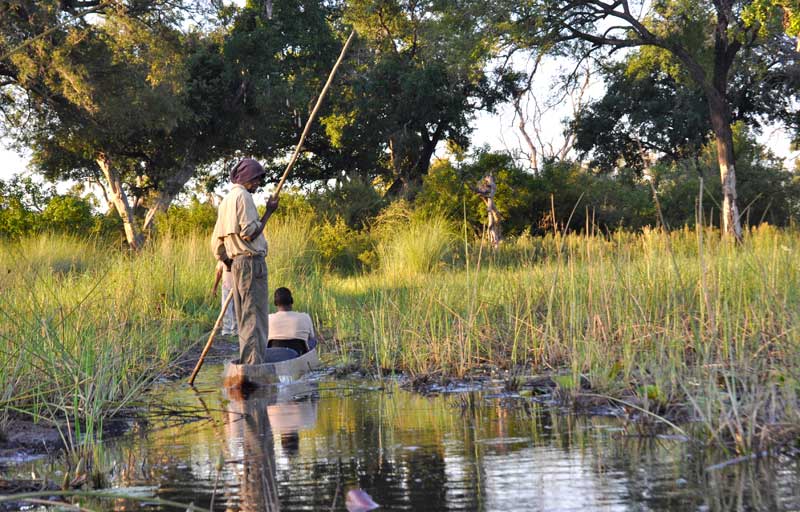 The village of Xaxaba appeared in a clearing behind a line of sausage trees and leadwoods. Pale grey, mud huts neatly adorned with thatch spread out alongside undefined pathways, corn crops, and a rough soccer field. All seemed quiet in the heat of the day, but as we trundled through the village in our game viewer, we received delighted waves and shrieks from the children too young to be at school. At the edge of the village, our guides loaded up a trunk of kitchenware, camping chairs, and canvas tents, and we headed through some more trees and thicket, startling some zebra, and arrived at our campsite.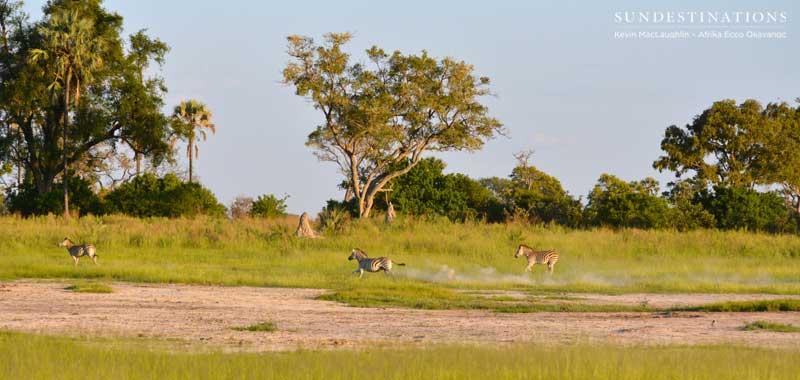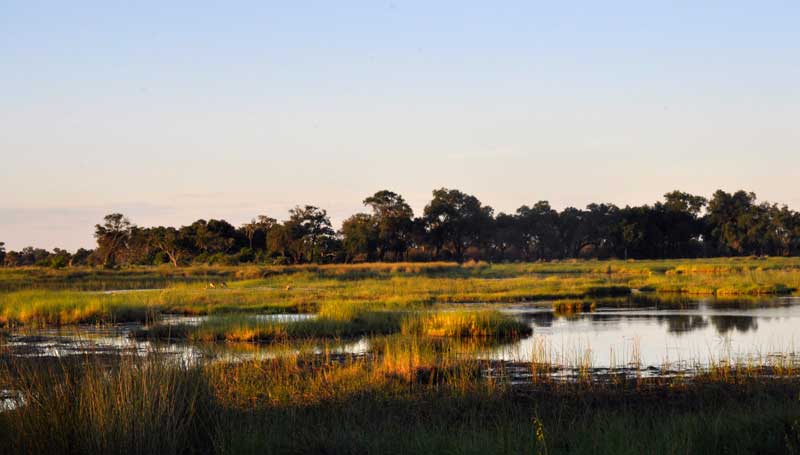 A spot along the water, fully shaded by jackalberry trees, and the ground green with grass, it could not have been better. The area looked untouched by people, even though this is one of the locations often used by Afrika Ecco. There was no evidence of previous use; no permanent structures, not even a firepit. This is about as natural and authentic as a campsite in the Delta gets, and at that point it was hard to believe the level of comfort we were going to enjoy as guests at the camp.
Elephants, hippos, and red lechwe were there to greet us as we looked out over our personal stretch of water and onto Chief's Island to the north of us. Next, Base and White, two men from Xaxaba glided up in mokoros, and set to work pitching tents and making fires, while Tshepo, our chef, prepared a quick lunch of sandwiches and fruit for us to enjoy while we bird-watched and photographed our surroundings.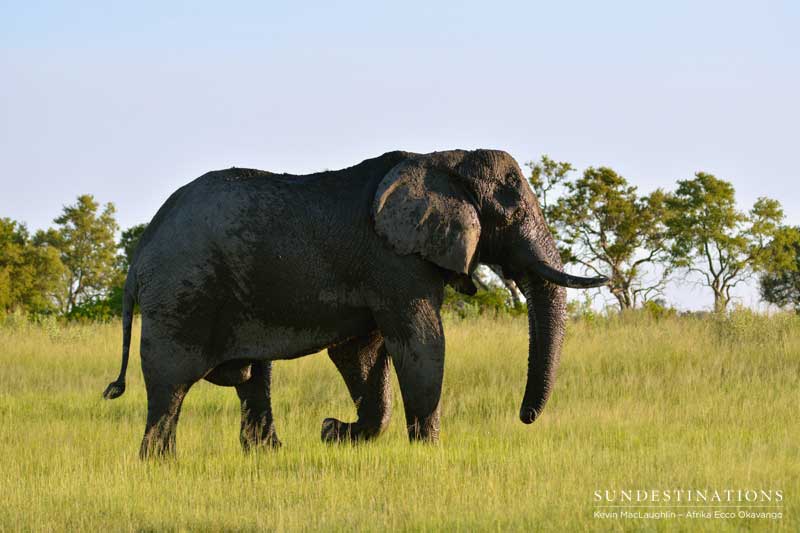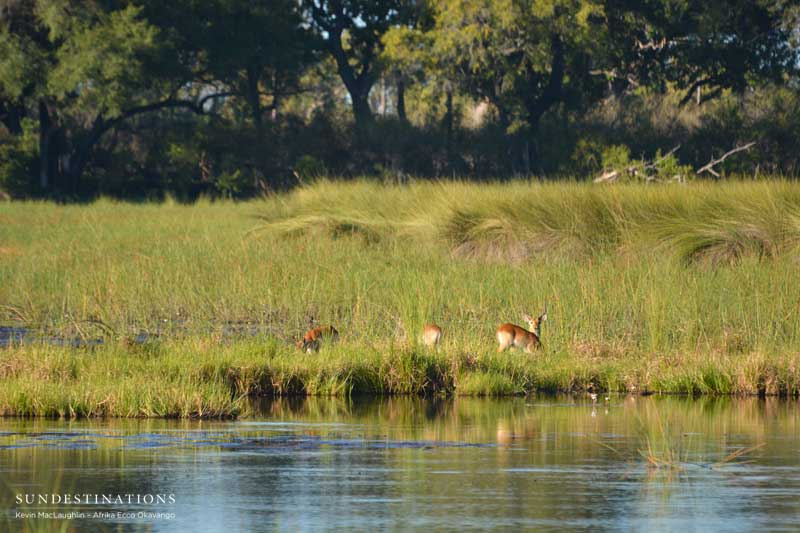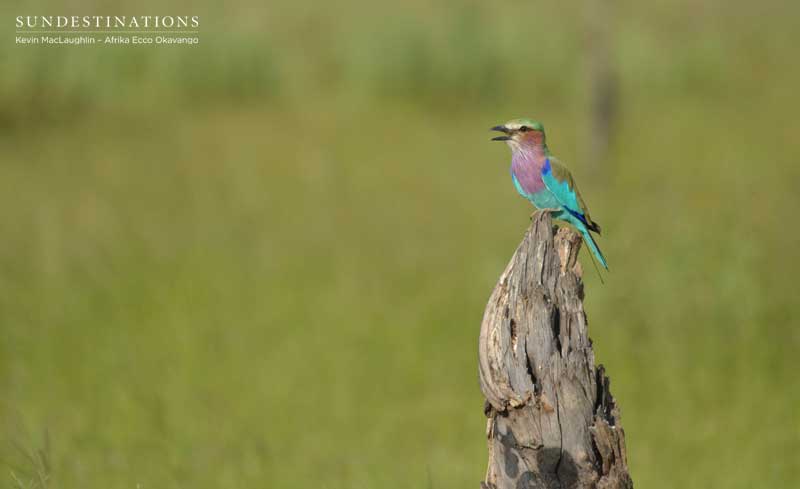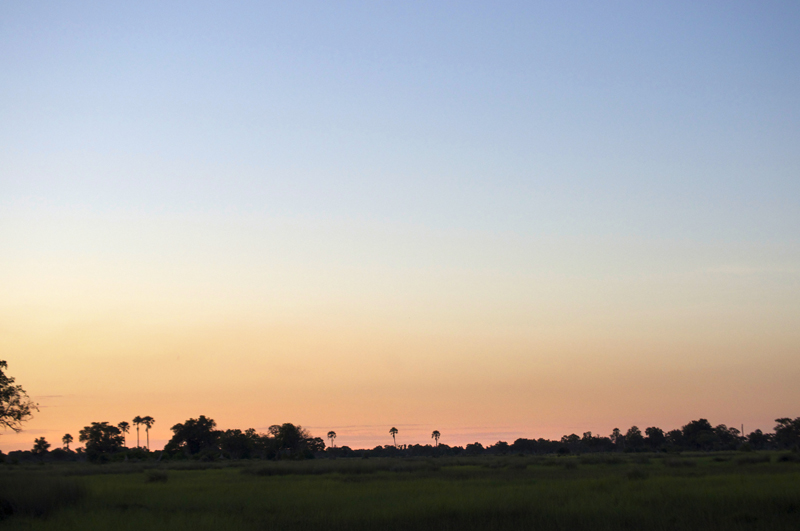 Swiftly, amid constant chatter and laughter, our camp was set up for us. A spacious, canvas dome tent complete with stretcher beds, mattresses, duvets and pillows; a shaded veranda with chairs, wooden tables, and a hand basin filled with warm water and soap; an 'ensuite' bathroom with excellent bucket shower, eco-loo, and a portable vanity shelf complete with mirror, bug spray, soap and air freshener. Nothing was expected of us throughout our 3 day safari. We faded off to bed after a three-course meal (cooked solely using the fire), long chats with KD and Tiko about life in the Okavango Delta, and silent enjoyment looking into the flames of the campfire with a glass or two of wine.
Mornings began with fresh warm-water basins, coffee and cereal while the sun was rising enough for our guides to navigate through the hippo-filled waterways. We were polled across the water to Chief's Island where we spotted a Pel's fishing owl, and walked for 2 hours among zebra, wildebeest, lechwe, and baboons. Upon return to camp, we were greeted with the scent of freshly baked bread, fed a delicious brunch and then invited to relax for the hottest part of the day. A cooler-box kept cooldrinks, beer and water on ice, while the enormous trees provided shade for a bit of shut-eye beforeafternoon game drive.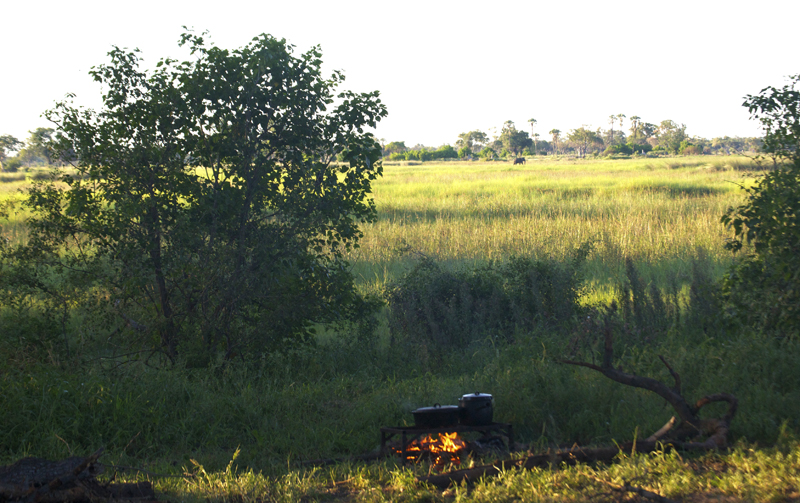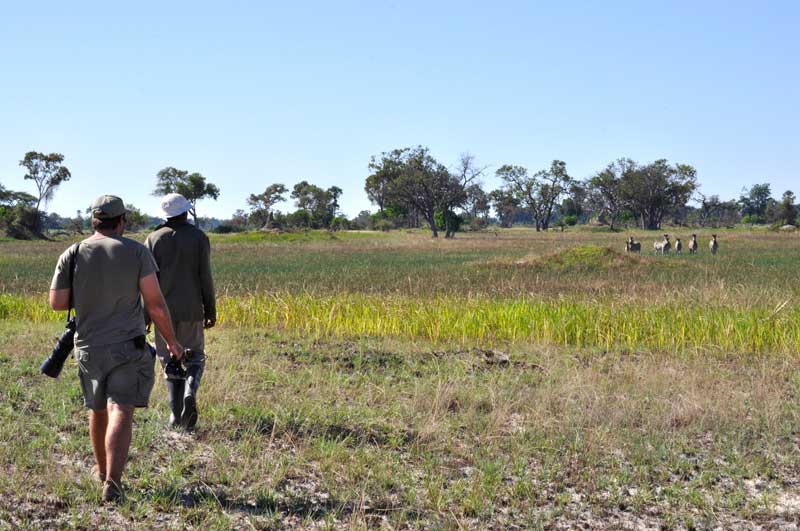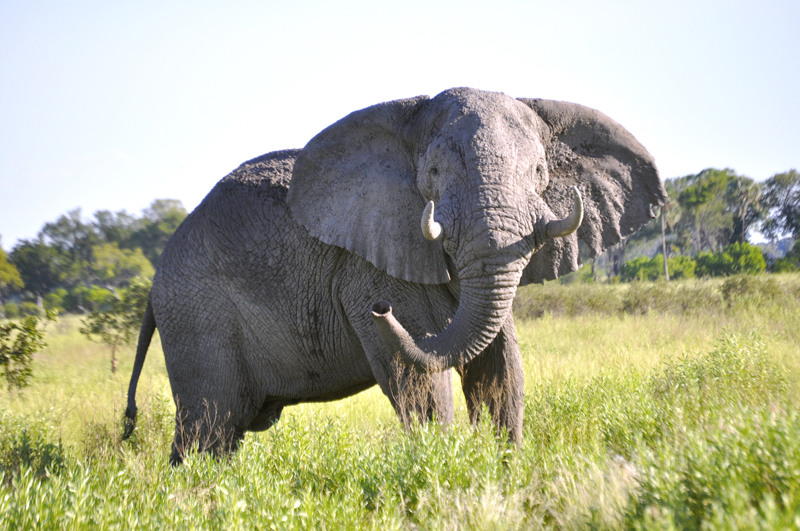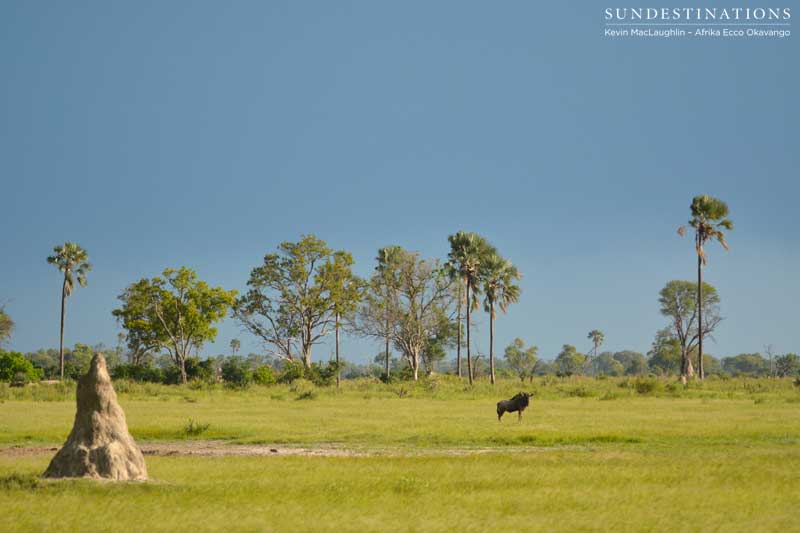 During the day, KD, Tiko, Tshepo, Base and White talked and laughed among themselves, busily making sure there was wood for the fire, and that pots were cleaned. There always seemed to be something to chat and chuckle about, and when the camp fell quiet we thought our guides had finally succumb to the searing Botswana heat, but when we looked out into the Delta, we saw them under the sun, knee-deep in the shallow water, fishing for bream, and collecting water in buckets. We felt like guests in their home, and in fact, that is where we were – personal guests their wild Okavango home.