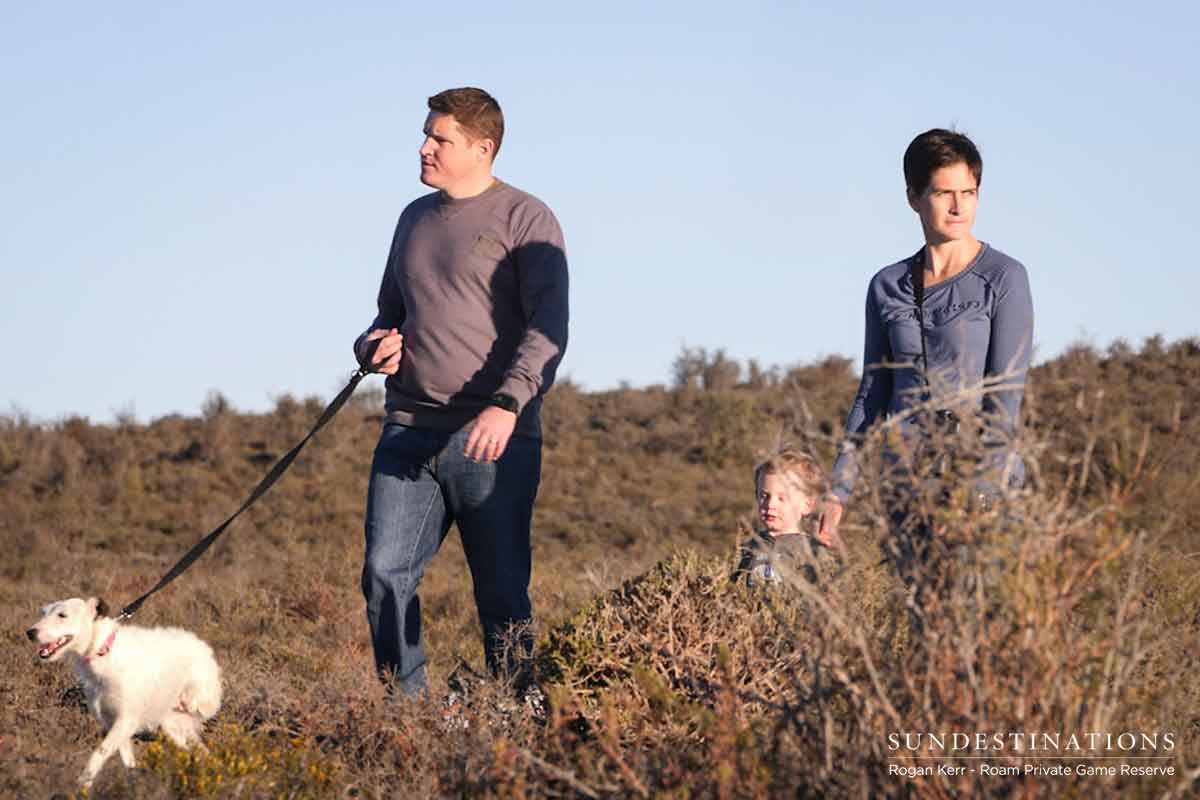 Pet-friendly destinations are few and far between, and it's always hard leaving your furry friends at home when you go on holiday. But at Roam, everyone's welcome, including Rover.
What's better than visiting the picturesque plains and undulating hills of Roam Private Game Reserve in the Great Karoo? Well, visiting Roam with your pet by your side, of course. Guests of Roam's Manor House – a self-catering, exclusive-use home away from home, perfect for families – are encouraged to bring their dogs and cats along, provided that they have the necessary vaccinations.
The Manor House is truly a dream Karoo escape. Its well-appointed living area is open and airy with double volume ceilings, and large farmhouse windows and French sliding doors that flood the space with sunlight. There are three bedrooms: one large master suite with sliding doors opening on to the boundless Karoo veld, and two spacious rooms for the kids. It's understated and sophisticated, with a touch of luxury, but the standalone Manor House was primarily built for comfort and seclusion in the Karoo wilderness.
It's set on 300 hectares of unspoilt Karoo, on which guests can take their pets for long walks – Fluffy would likely have never seen such vast open spaces in its life! The position of the house means it's well isolated and gives the feeling that you have the whole reserve to yourself. Absolute bliss.
After taking the dog (or cat, if you can get it to tolerate a leash!) for its daily walk, enjoy cooling off in the lovely and inviting pool or kick back and savour a sundowner on the expansive deck – you will never want to get up from the super comfortable sun loungers surrounding the pool. Your pet will love the rolling green lawns of the garden, and there's ample space for it to run and play to its heart's content in the yard around the house.
As night falls, you'll want to get the fire going in the huge braai on the back stoep. Karoo chops, anyone? When in Roam! And, as the blanket of stars descends, try and identify the constellations with the telescope that comes with the Manor House. City slickers will certainly not be used to a night sky this lit!
** Dogs need to be on a lead at all times when not in the confines of the garden and house. The conservation levy will apply to pets. It should be noted that pets can only be walked in the 300ha around the Manor House and not on the main reserve. Please let the staff at Roam Private Game Reserve know the type of pet that will be accompanying you on your family holiday.