…Doesn't Stay on Tour.
Not when I'm around. Not when I have a keyboard, a bunch of adjectives, videos, photographs, and first-hand accounts from resident photographer and undercover spy, Em Gatland. She's not quite part of the KGB and certainly doesn't have ties with the Mafia family, but she has shared a few secrets from the 3 day Africa on Foot wilderness trail spent with local South African celebrities. We won't be telling tall tales because anything to do with height remains the giraffe's business. And our style is a far cry from the trash DailyMail tabloid that thrives on making up stories about Batman's love child with Beyonce. We're more fact driven and prefer first-hand accounts from our khaki-clad crew on the ground.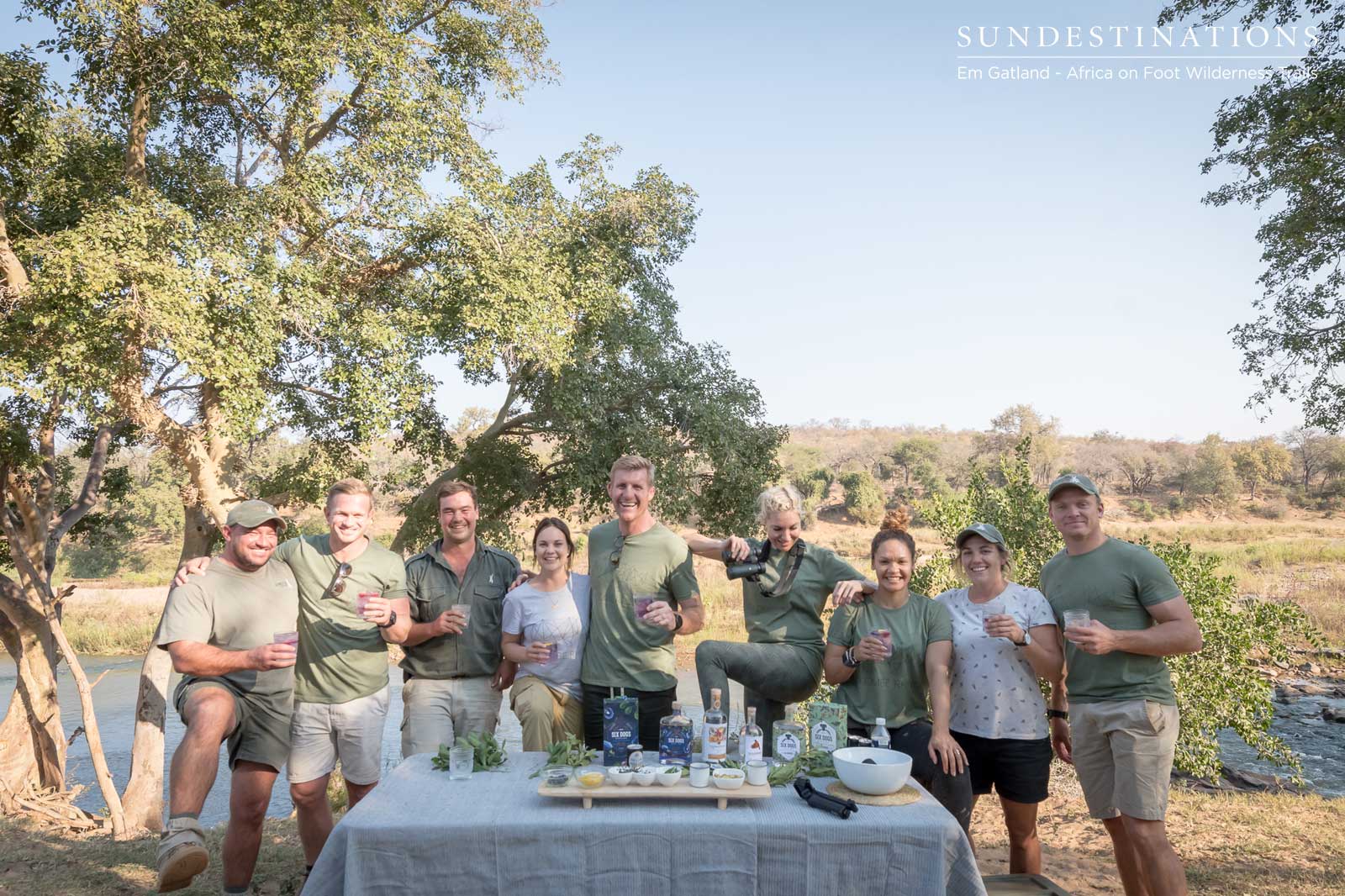 Our 3 day Africa on Foot Wilderness Trail in the Maseke Game Reserve is becoming a popular trail among dedicated hikers and visitors wanting a more on the ground safari experience. A handful of local celebs donned their khaki and headed out on trails to experience the daily safari lifestyle of the trails team. Each night of the trail is spent at a different location within the Maseke Game Reserve, ensuring guests experience the game-rich pockets of the reserve while being surrounded by contrasting scenery.
Our adventurous group of explorers included a group of local South African celebrities with an indomitable spirit. Turns out there was such a sense of camaraderie on trails, and plenty of stories emerged from their 3 days in the Maseke Game Reserve. Joe Pietersen, a well-known South African Union rugby player was one of the sporting celebs to join the walking safari. We knew Joe would be fine on the trails, and could probably blitz and manoeuvre his way through a pride of lions, given that he was a cheetah. Joining the trail party and flanking the team of walkers, we had another rugby player and ex-Springbok, AJ Venter. Then we threw another rugby player into the mix – Michael Claassens, who also enjoys his fair share of cats.

To break up the rugby theme we invited media personality and all round sportswoman, Liezel van der Westhuizen. This fitness fanatic and lover of the outdoors placed third in Miss Fitness South Africa, making her an ideal candidate for our 3 day walking trails. Stacey Holland, global traveller, social change maker, fitness fanatic and media personality also proved to be the perfect person for trails. Leading the team of the sporting elite were legend guides Courteney and Luan. We needed the best-of-the-best to lead this team of die-hard go getters. I'm speculating and assuming there would have been plenty of sporting talk in between the dissection of elephant dung, stories of marauding hyenas and tales of brutish lions. 
Armed with an arsenal of personalities in their group with just the right balance of khaki gear, Courteney and Luan set-out to show the walkers the spoils of the Maseke Private Game Reserve. Needless to say, the group weren't disappointed with their experience.
Em Gatland jotted down a few highlights from the blissful bushveld days on trail, which we've listed below:
Wildlife sightings while on foot : elephants came into camp, towers of giraffe were spotted while on foot, lions were seen devouring the remnants of a giraffe carcass, and a lone elephant joined the gin sundowner session at the river.
Artefacts : while exploring the landscape the team came across plenty of debris and artefacts from a bygone era. One of these was an ancient ceramic pot.
Sisterhood : Liezel and Stacey met for the first time on trails. Their conversation flowed like red wine on a winter's day and rumour has it that they're now "besties". The bushveld is the perfect spot for forming lifelong friendships!
Awkward Funny Moments : one of the guys was on the toilet, and Luan walked in to have a shower. Awkward. One of the directors, Cecilia, decided to join the trails for a bit. The team decided to prank her by putting elephant dung in her toilet. Awkward and funny.
Humour : Em says, "All personalities complemented one another and each person had an incredible sense of humour. AJ mentioned how enjoyed having in depth conversations with people – something that gets lost in life."
Pop Quiz : on the last night the guides decided to host a quiz. Joe won first prize – two nights at any one of the Klaserie/Maseke camps.
Photographer Em Gatland captured the essence of the trail with her mesmerising images, and Joe created an amazing video of time spent in the bushveld.