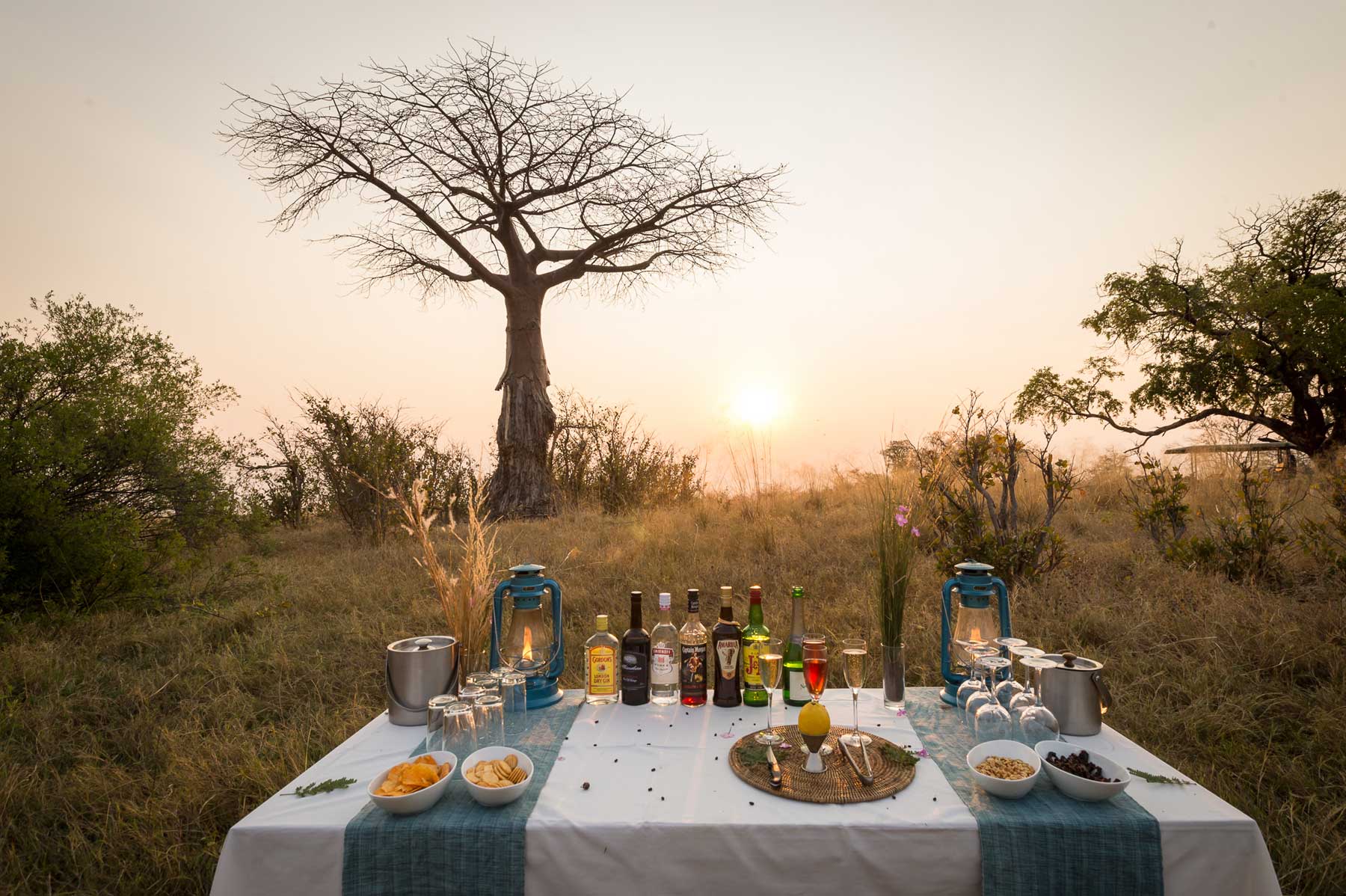 Golden hour is a much anticipated event while on safari. Sunset is the colourful divide between the tranquillity of blissful safari days and mysterious antics that occur under the canopy of star spangled darkness. It's the bridge that links day to night, and always provides the picture perfect setting to discuss the day's events and the potential of the night. At Motswiri Camp we go out of our way to take advantage of this time of day, so much so that it has become quite an event here at camp.
Our baobab sunset session marries harmonious scenic surrounds with bushveld elegance. You will be transported to a secluded spot on the breathtaking Selinda Spillway, a hideaway in a shallow waterlogged region favoured by guides Witness and Twoboy. A table laden with snacks and your choice of tipple is set-up, while you swap stories about recent sightings.  The scene is quite surreal. To be enveloped in the sights and sounds of Africa with so much space and freedom at your feet is, well, simply refreshing.
A rather dignified baobab tree watches over the landscape below and provides the perfect safari element to an otherwise exquisite part the our concession. While elephants lumber through the waters on the horizon listen out for the gentle rustling in the reeds – it might be a shy waterbuck. Listen carefully to the sounds above, for you might hear the call of the African fish eagle – an iconic sound of Africa. This spot in the Selinda is ideal for sundowners, and is just one of the many activities on offer when you stay at RAW Botswana, Motswiri Camp.
Recent guests were treated to a famous sundowner sessions, and they certainly had no problem drinking champagne and tucking into glasses of traditional Amarula liqueur. Michelle, one of the guests, said, "There were dazzle of zebra in the background and array of birdlife hovering over the tranquil waters, which certainly added a touch of authenticity to the scene."
Motswiri camp operates exclusively on 120 000 acres of a magnificent, world-renowned tract of land on the Selinda Spillway. We ensure that you experience the best of land and water based safari activities in a wild location. There are a host of unique activities on offer, where you have the option of experiencing horseback safaris, walking trails, game drives, boating, mekoro and canoeing. After a day spent indulging in the best that Botswana has to offer, you can relax on your private verandah that flows out from your suite overlooking the wilderness beyond. Watch the video showcasing the highlights of RAW Botswana.
Will it be sparkling wine, a beer or a traditional gin and tonic under the wise old baobab? The choice is yours – just get here. This is a sundowner session Botswana style. Your time to be cocooned in absolute safari bliss and wild Africa.