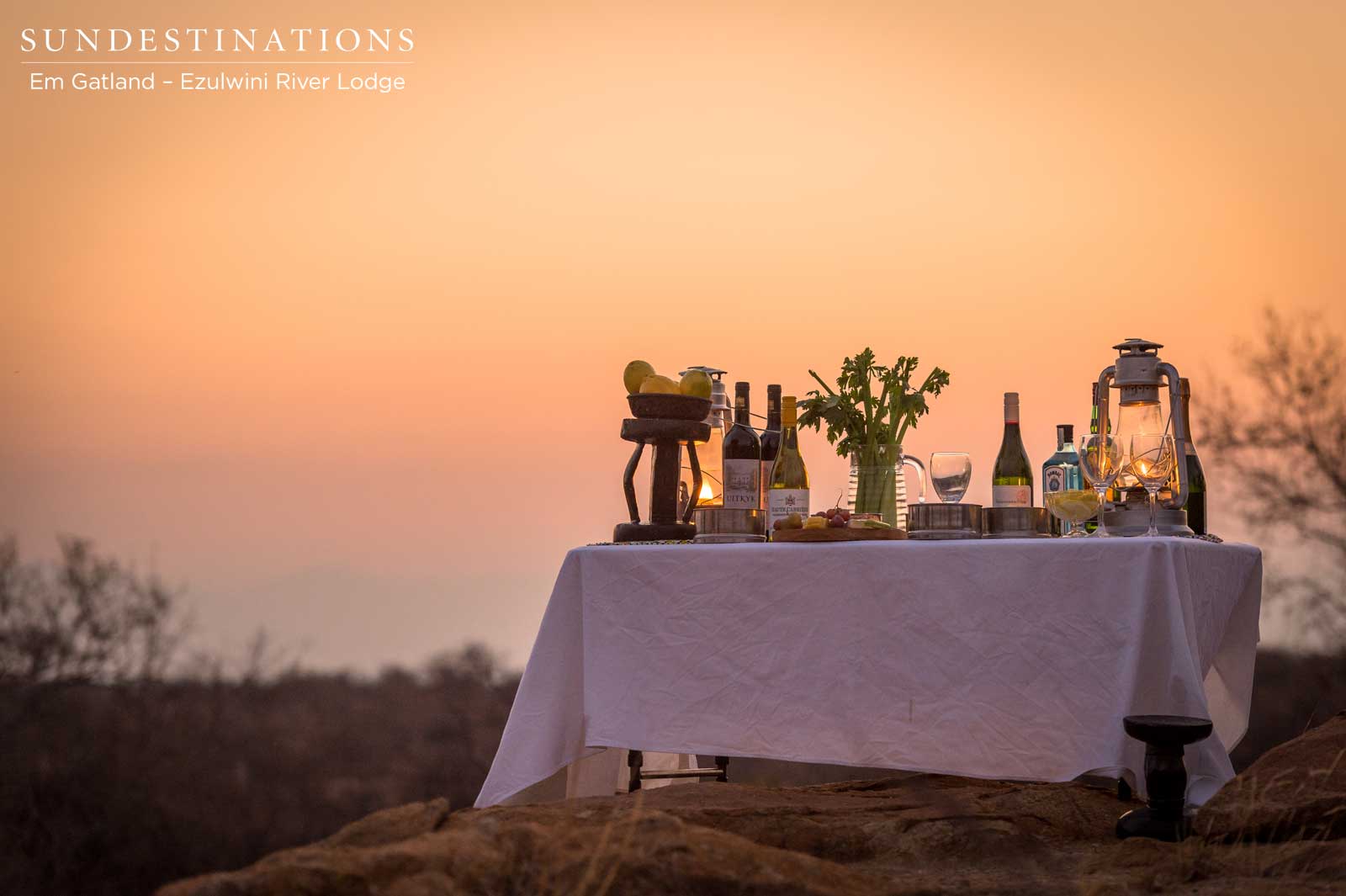 It's an exhausting affair sitting in an open-topped Land Rover traversing the rough bushveld of the Balule Nature Reserve; which is why Ezulwini Game Lodges feel the overwhelming desire to ensure you're looked after…And that includes your stomach!
Seeing a herd of elephants crunching through the thickets and devouring fresh vegetation makes your heart ache for crisp salad. Observing the River Pride of lions tucking into the rib-cage of a buffalo calf makes your stomach grumble for a delicious steak prepared on an open fire. Seeing the plains game quench their thirst at available waterholes is certain to stir a longing for something fresh and sparkling to drink.
With an abundance of food and water available for our wildlife, chefs at Ezulwini decided it would only be fitting for the human element to enjoy the same supply. Of course, it goes without saying that chefs don't require guests to work for their food. As a matter of fact, you can sit back on one of the viewing decks and a drink of your choice will be delivered to your quivering hand.
Here's the lowdown of what to expect in terms of food and drinks at Ezulwini Game Lodges:
The Food at Ezulwini Game Lodges:
Depending on the occasion and which lodge you're staying at, Ezulwini has many idyllic little spots that are set-up for your dining pleasure. At Ezulwini River Lodge guests can expect a traditional evening of dancing accompanied by a braai. A braai is, arguably, the preferred method of cooking for many South Africans. A braai is when your meat and vegetables are cooked over hot coals made from a wood fire. Chefs may even whip up a potjie, which is similar to a stew but made in a cast iron pot.
The Ezulwini chefs ensure you are sufficiently full and focus on providing a combination of westernised home-cooked food with a flair of African cuisine.
Breakfast is a standard English breakfast and seasonal fruits are served beforehand. Lunch is normally a light affair with small pastries and salad. Tea is an assortment of cakes and sweet things.
Then of course, during your game drive guests can expect a few nibbly snacks. Now is your chance to try biltong, local cheeses and rusks.
The Drinks at Ezulwini Game Lodges: 
It goes without saying that while on safari, you need to indulge in the local selection of beverages. Whatever your taste, whether it's non-alcoholic or alcoholic, Ezulwini is bound to have a range of drinks to tantalize your taste buds. South African soft drinks differ somewhat to the rest of the world, so there's plenty to try there. Of course, firm favourites like Coke are readily available.
In terms of local brews, we suggest a South African beer such as Castle. There are plenty of wines available and there's nothing better than a glass of red while sitting on the balcony of your suite. Then there's Amarula, a creamy liqueur drink served best with blocks. This drink is made from the fruit of the marula tree and is synonymous with Africa.
International brands and spirits are available. The safari drink of choice is actually a gin and tonic – the tonic is believed to ward of mosquitoes. The most celebrated hour on safari is the golden hour when the sun begins to set. Rangers may take you to a few special sundowner spots to make the most of the brazen African sky.
Wine Tasting at Ezulwini Game Lodges:
The cobble stoned stairs at Ezulwini Billy's Lodge lead from the pathway down to a heavy wooden door, that gives no indication of what mysteries lie beyond its exterior. The secret is, there is a wine cellar enclosed in a cave. Ancient bushmen artefacts adorn the crooks and crevices; while fine wines line the shelves. Sit a while and Laurence will educate you about the history of the Balule Nature Reserve as you enjoying a wine tasting. What can be better than sampling wine and listening to tales from a bygone era?