Mark Morrison's 1996 hit single "Return of the Mack" is a fitting background song for this blog post. When Nadia Bester from Umkumbe Safari Lodge animatedly told us that Mxabene the male leopard had returned to hallowed ground, we rejoiced with excitement.

Max is a firm favourite on the Umkumbe traverse and is often spotted a few times during the course of a week. He does, like most male leopards, cover a wide range and can disappear from time to time. Of course, we don't actually know whether he's there lurking in the shadows or if he has gone walkabout.

When Nadia alerted me to his return, I had the ridiculous lyrics "Return of the Max" twirling around in the big cat part of my brain…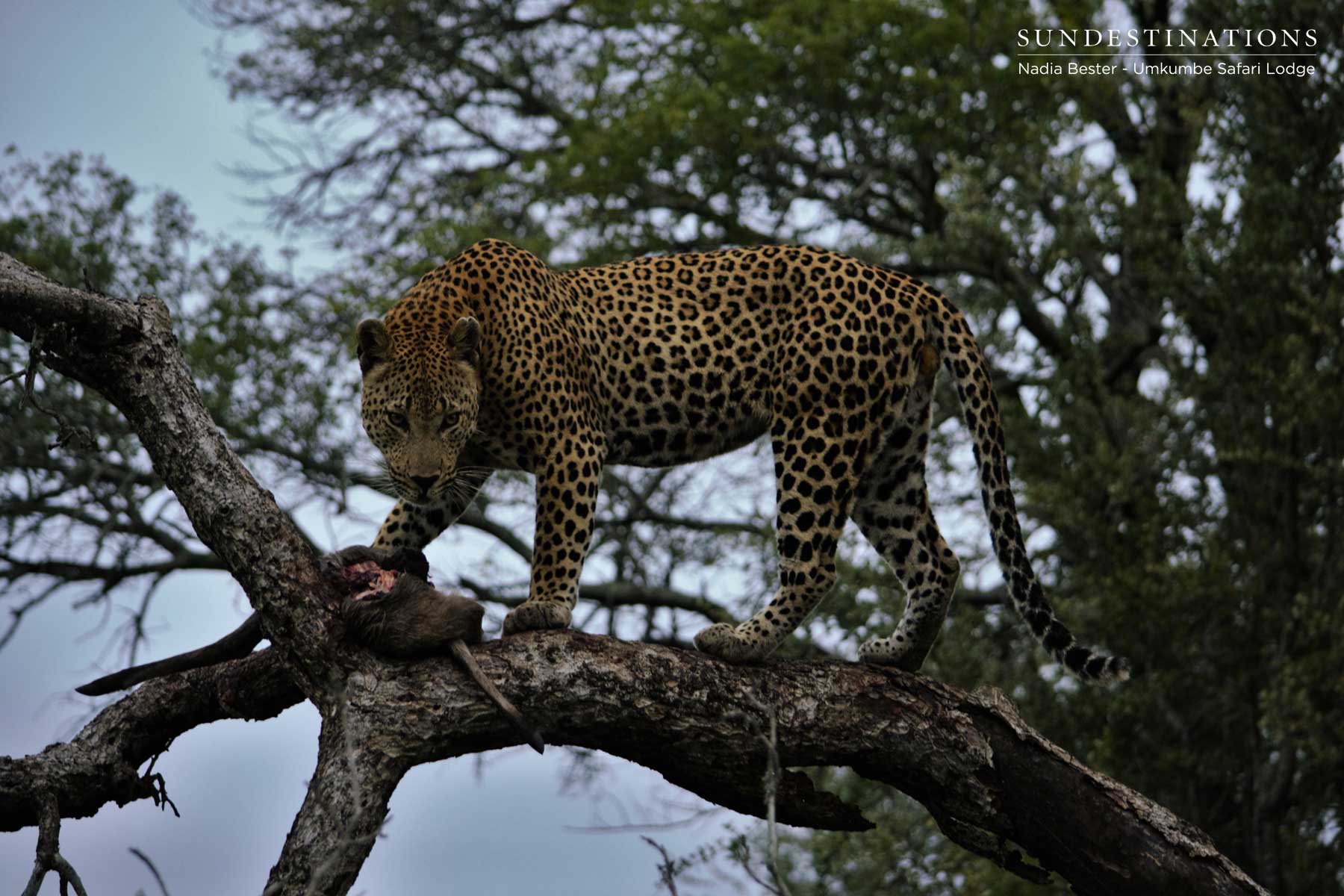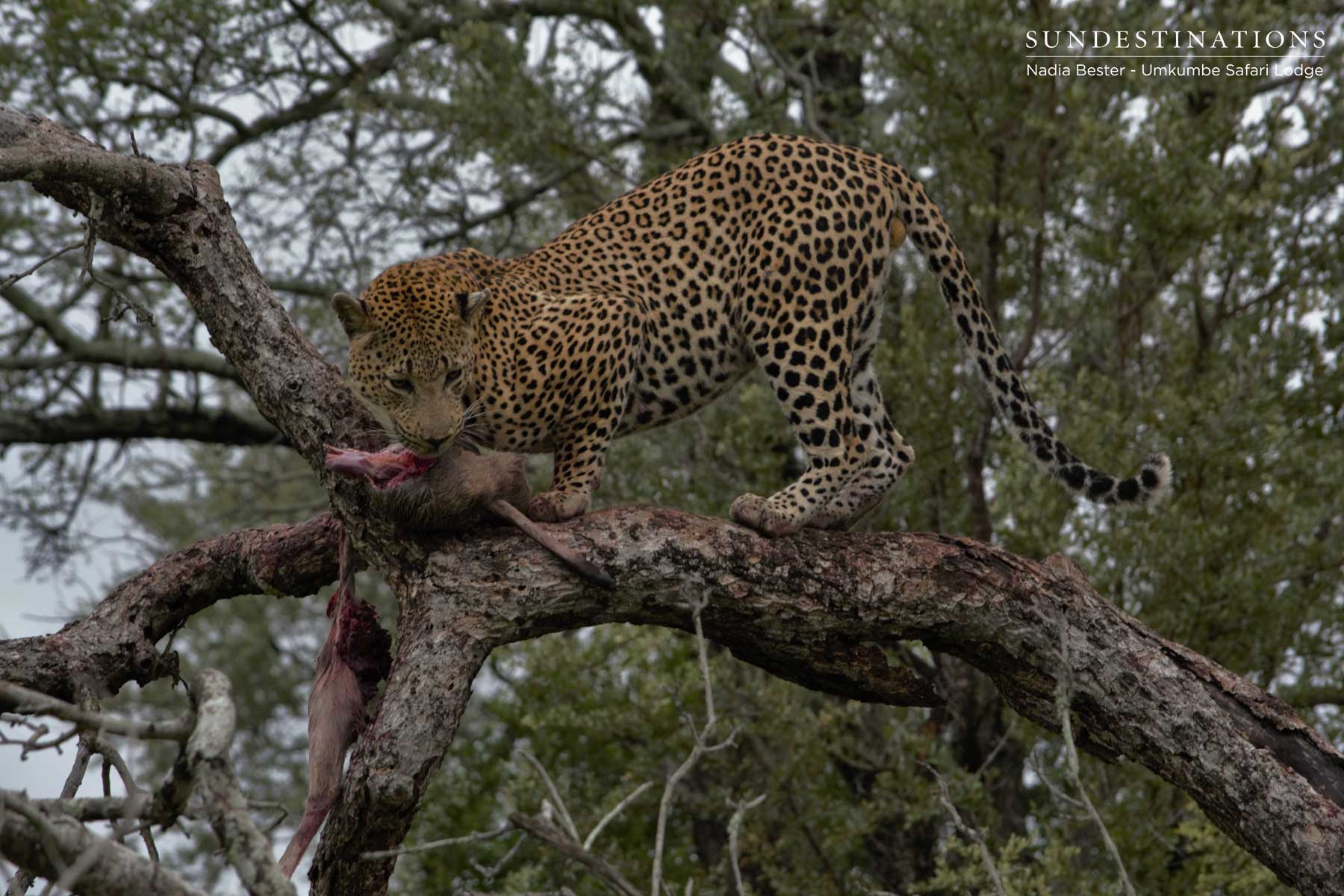 While Nadia, new ranger Kyle and their guests set out on morning game drive, things took a turn for the better. After moments spent gazing at dazzles of zebra, staring at ill-tempered buffalo and just listening to the endless birdsong of this-and-that bird; things quickly escalated.
Mxabene was spotted enjoying his latest feast, a duiker. Leopards don't gorge themselves on a kill and will savour their prey. They stash their kill in a tree for safekeeping and will return to their "dinner plate" over a period of a few days. Seeing him the morning with the kill meant that rangers could safely assume that he'd be in the area for evening game drive.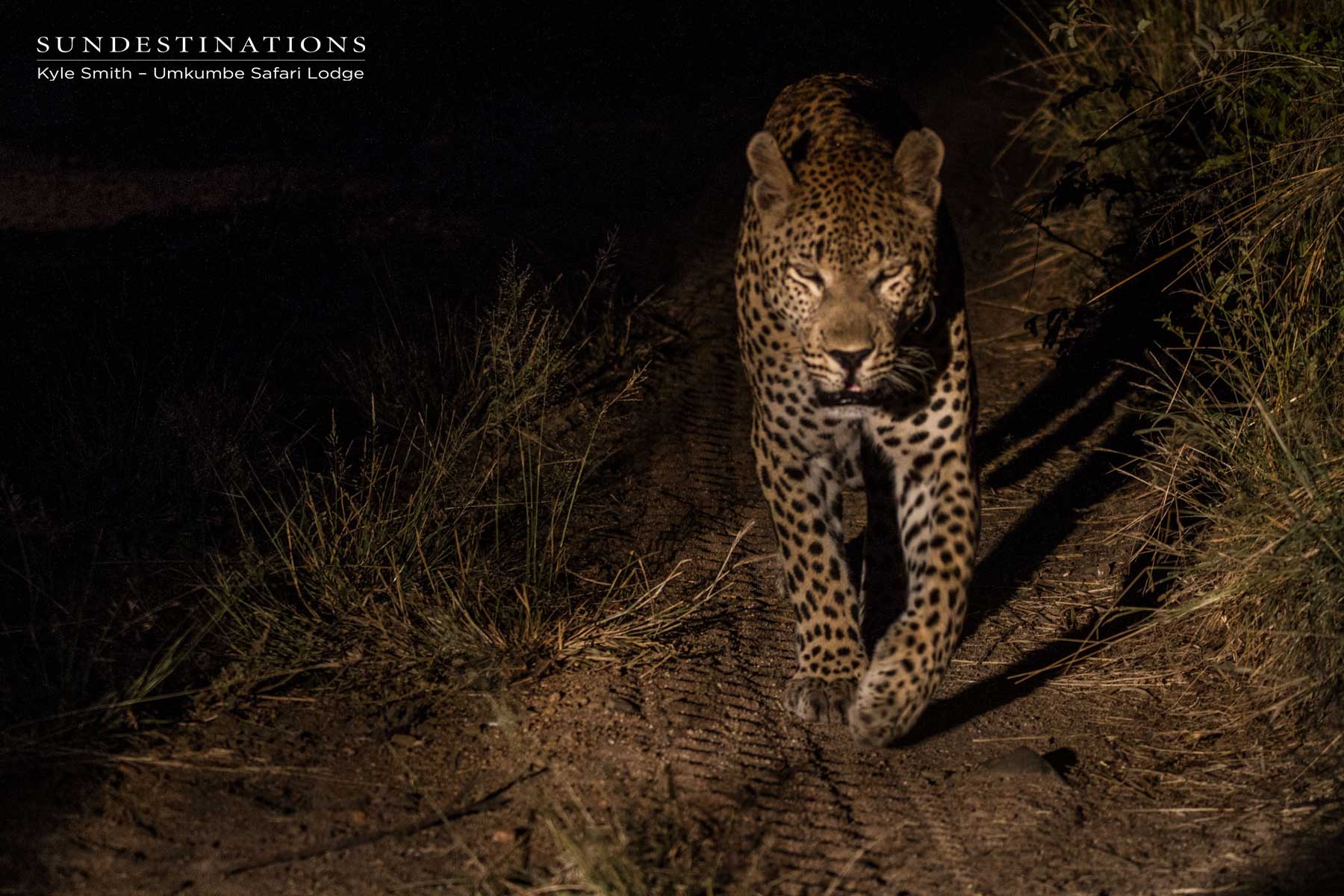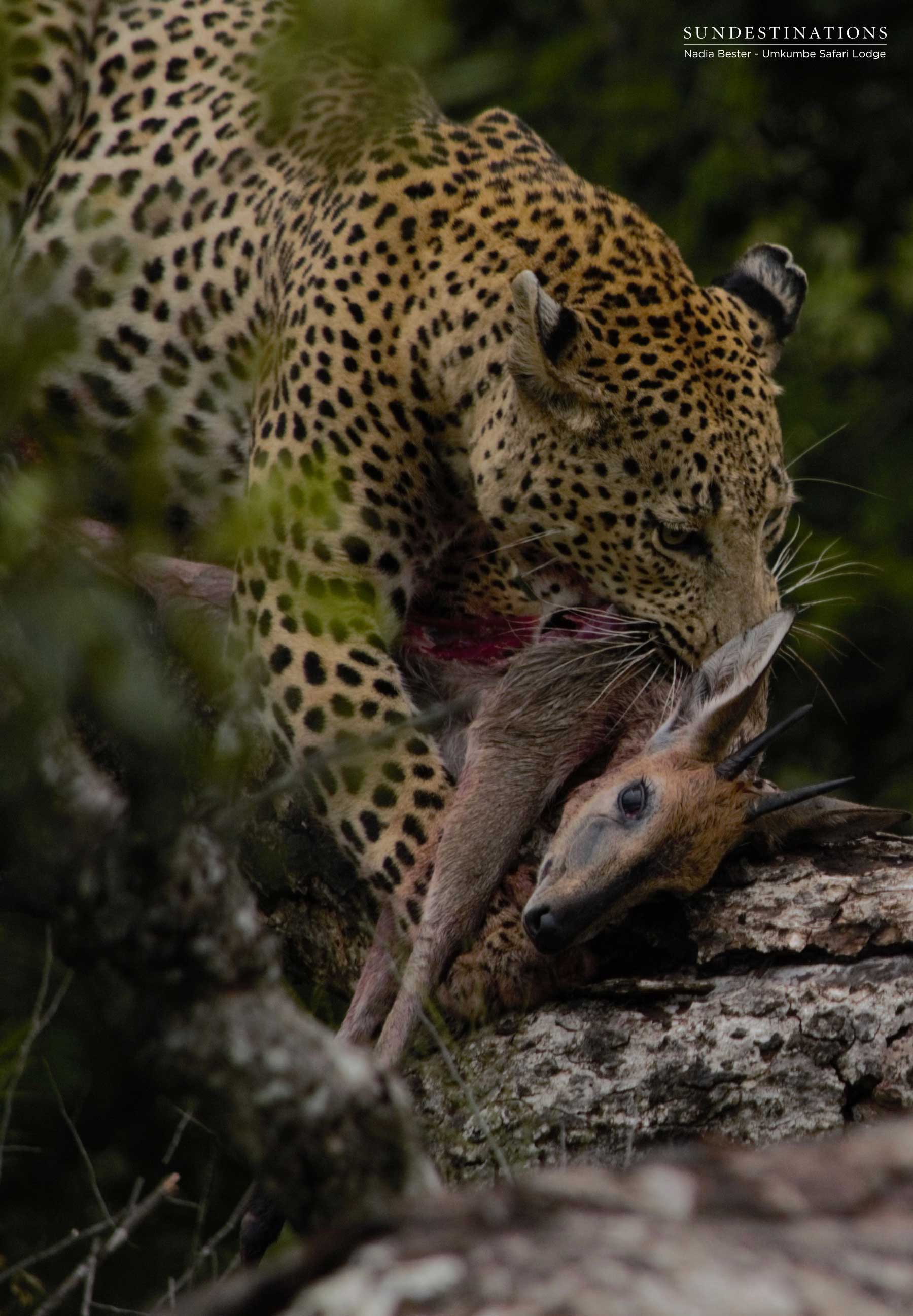 Max decided to stash his kill in a decrepit tree which required a fair amount of awkward clambering. Nadia says, "He had to get up the tree fast. The huge clans of hyena were waiting patiently underneath hoping he drops a piece!". Luckily, Max managed to devour his entire meal in an effortless and graceful manner. The hyenas? Well they were refused a meal that night but they continued to hover around.
But that's not the end of the Sabi Sand leopard action. While everyone was watching dear Max, he literally froze on the spot. Suddenly, he was on high alert and glanced into the distance. Out of the blue sauntered White Dam's male cub. Max very kindly let the cub approach his tree and shared the tree with the cub. White Dam's cub was cautious when approaching the area and Max was extremely patient with the newcomer.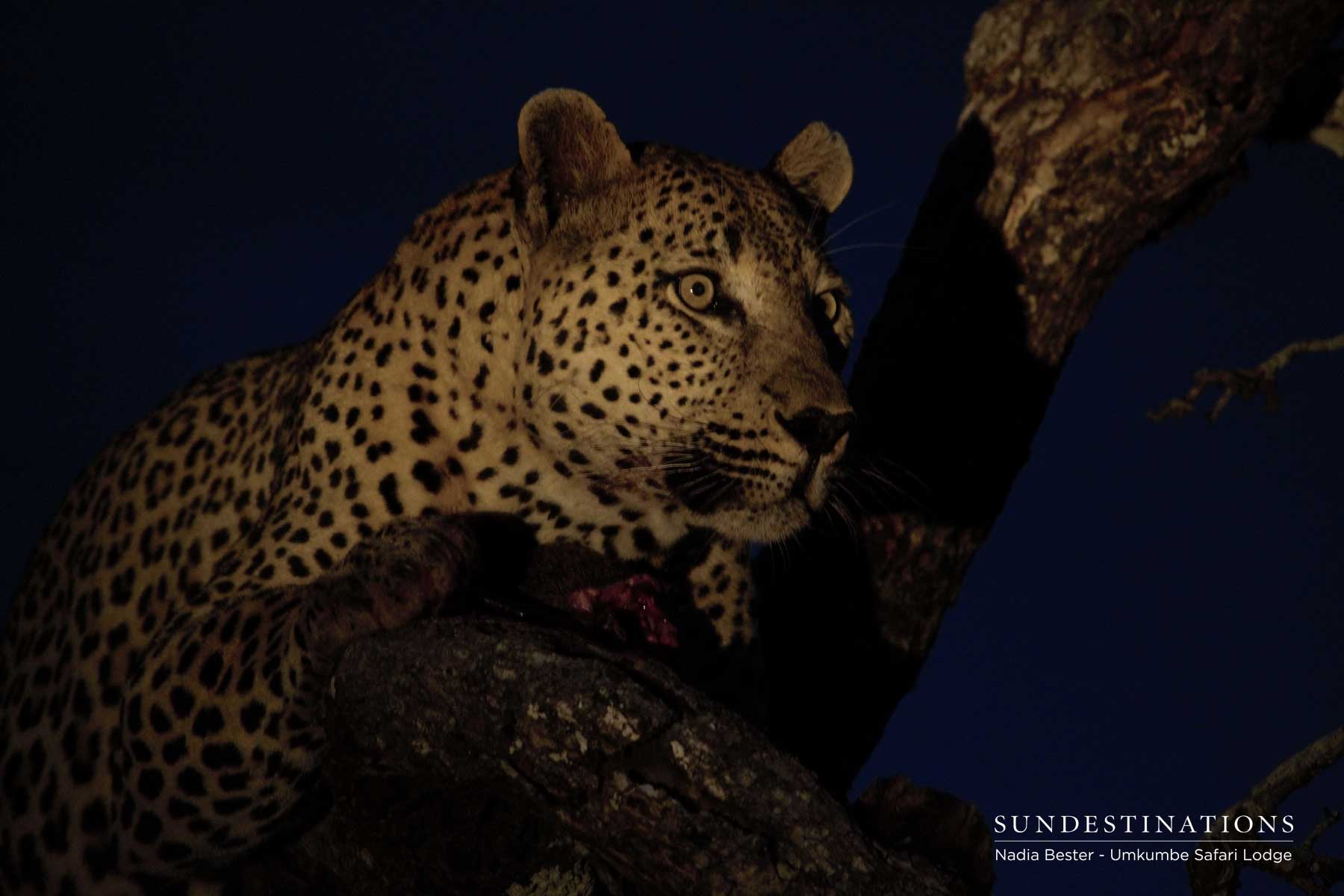 While male leopards are notoriously territorial, they are fairly tolerant of youngsters exploring new areas. A female leopard may mate with a number of males in the area in order the confuse the males of the paternity of the cub; thus making each territorial male tolerant of cubs.
If Max could talk he'd probably say :
(You know that I'll be back) here I am
(Return of the Max) once again
(Return of the Max) pump up the world
(Return of the Max) watch my flow
(You know that I'll be back) here I go