Welcome to the Week in Pictures, our time to showcase the exquisite images taken during the week. This week, we've seen an increase in wildlife visiting camps in an effort to seek out water sources. Lion dynamics are shifting and they're not the only members of the big five we're seeing at the moment. Bolshy buffalo, sleek leopards and emotive pachyderms casually stroll through the reserves in search of water and food sources. And there we sit in our game viewers, watching the world unfold and carefully observe our mild mannered, yet tough species forging their way in their natural environment. 
Our "sister" Klaserie camps, Africa on Foot and nThambo Tree Camp, have enjoyed an increase in lion sightings recently. The Mbiri males returned to their hallowed ground, and this week the Hercules Pride appeared to be elusive. The highlight of the week was the sighting of an unknown male leopard  (quite a hefty bruser) quietly enjoying his duiker meal in the safety of a tree. There was a leopardess in close encounters and the two eventually sauntered off into the thickets while our photographer listened to a series of grunts, which we speculate was the sound of them mating. In conjunction with our outstanding leopard sightings, we've had the elephant herds frequenting the splash pool at both camps. An absolute highlight for guests!
Ivory Wilderness Riversong Camp – another one of our camps in the Klaserie, has had an abundance of wild dog sightings and the elephants are filtering down to the river on a regular basis. Phenomenal sightings from both the camp and while out on game drive. Our Botswana camps, Tuskers Bush Camp and Xobega Island Camp continue to tick over with a wealth of sightings.
Umkumbe Safari Lodge have, yet again, inundated us with reports of big cat sightings. The leopard viewing on their traverse continues to deliver unusual and frequent encounters with our mottled cats. Little Bush's female cub conducted a well-executed kill of an impala and it seems she has practicing her skills to perfect the art of taking of down quarry. A couple days after her impala meal, she heartbreakingly removed a barn owl chick from its nest. In terms of lions, the Tsalala males have made another appearance. White Dam and Mxabene, our commonly spotted leopards, were also seen. Other sightings included a cheetah just relaxing, elephant calves feeding and inquisitive hyena cub.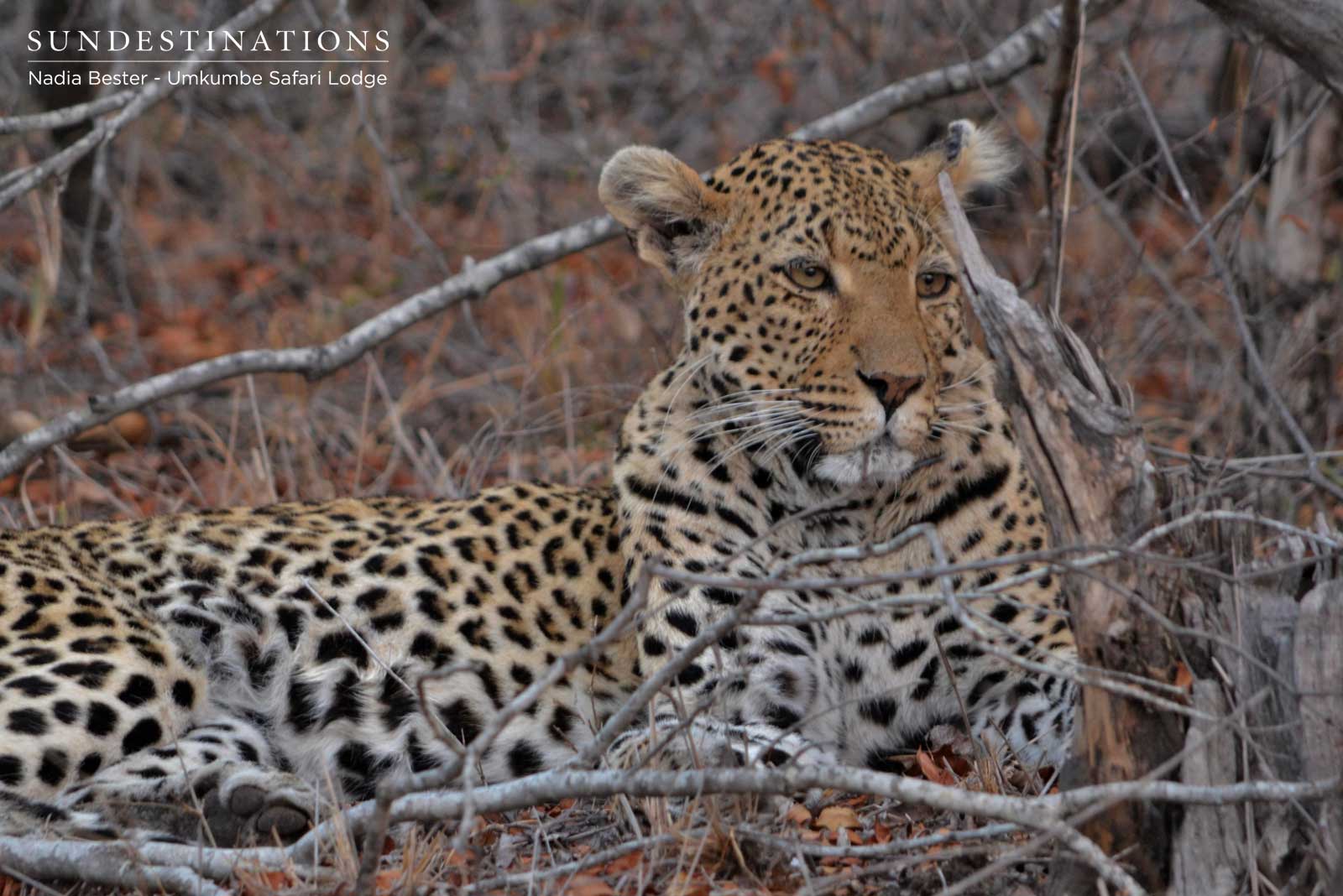 Ezulwini Game Lodges have had their fair share of big cat sightings, and the lion pride dynamics are shifting at a rapid rate. The Machaton males have made their mark, much to the disappointment of the Mohlabetsi coalition that has dwindled in numbers to 5. The Mohlabetsi males and even the Kudyela Pride flee upon the arrival of the heavyweight Machatons! With the heavy presence of lions, there are always scavengers hiding in the wings, as a result the sightings of hyena have been prolific.