Congratulations! You're going on your first safari to Africa and have the privilege of staying at one of our lodges. The flights are organised and the accommodation is booked, but you have a few key questions to "unpack" before embarking on the journey of a lifetime. Because it's your first time in the bushveld, your mind is buzzing with the whole safari wardrobe scenario. Are your new white Adidas trainers acceptable? Am I going to sweat like an impala being hunted by a lion? All these questions need answering.
From clothes to tech equipment and luggage, there's a lot to consider when going on safari. Never fear, we are here to help with our definitive safari packing list that'll give a bit of insight into the safari lifestyle. The team at Sun Destinations have traversed remote destinations in Botswana, walked the Kruger, and spent time around campfires. We know what to wear on safari, and we know what to bring.
What to Wear on an African Safari
First, you need to understand the climate and what happens on safari before pairing outfits and deciding on your wardrobe options. You need to pack comfortable outdoor clothes and simple/stylish gear for relaxing around the lodge.
Let's explain. In Kruger, you spend 3 hours in the morning and afternoon in open-topped jeep/safari vehicles. The heels won't work for this! Some Kruger camps kick-off the morning with a bush walk, so be prepared for a little bit of activity. Botswana is slightly different in that it's usually a mix of game drives, sitting in canoe (mokoros) on the water, and boat rides. You need a combination wardrobe of clothes that can handle the above.
During your down time at lodge, you are invariably sitting around reading, relaxing in your room and sunning yourself on the pool deck. Meal times are usually spent together with other guests, and then there's the option to retire to the boma area which has a campfire. Some people like to wear something casual but stylish for meal times. Overall, think stylishly outdoorsy and comfortable.
Seasons: Kruger is inland and therefore has extremes in temperature. Summers are hot with intermittent rain. You can expect daytime temperatures to reach up to 32 degrees Celsius. It can be quite sticky, so you might need a few outfits. This is also mosquito/malaria season. Winters can be icy in the mornings and evenings cool. During the day it's quite sunny and mild, sometimes with a chill in the air. During the winter time, it's warm enough to wear shorts and t-shirts. And yes, it can be warm enough to swim. Both winter and summer seasons are similar in Botswana. The clothes you pack shouldn't be heavy. Think cotton, linen, and breathable hiking fabrics.
Now that you're armed with that arsenal of knowledge, here's a safari comprehensive packing list: 
Summer
Hat, sunglasses and sunscreen
Swimming stuff (pack two)
Lightweight walking shoes for bush walks
Flip flops for around the poolside
Socks (pack extra)
Dresses/blouses/shirts for for around the lodge and dinner times
Shorts + t-shirts for drives
Sarong for around the pool
Pair of summer jeans and pair of cotton/linen pants or safari trousers
Light fleece/jersey, summer jacket and windbreaker (the early morning drives can be cool)
Don't overpack, but pack extra—you spend evenings sitting around a fire
Exercise gear (some places have a gym)
Your beauty and bathroom products (basic products are usually provided). Be aware that you should consider the wild at stages and opt for eco products
If you can, leave the unnecessary electronic hair items at home
Winter
Your winter packing menu should follow the above safari packing list, in addition to the following:
Active wear down jacket for cold mornings
Beanie, mittens, and scarf
Thick jacket/extra jacket for around the fire outside
Rain jacket or windbreaker
What colours should I wear on an African safari?
The general rule of thumb is to keep it neutral. You need to blend into the environment and harmonise with nature. Avoid looking like a neon beacon in the bushveld! Try to avoid bright colours, black, and navy blue. Bugs are drawn to darker colours.
Your stylish safari wardrobe should incorporate the following colours:
Khaki
White
Earthy green / olive
Browns
Nude
Beige and cream colours
Browns

Safari Medical Aid
In the event of an accident, camps and lodges have proper medical strategies in place. From air lifting to on-site emergency medical kits and emergency contacts on call, you will be well looked after. You may wish to pack the following:
Anti-nausea and diarrhea medication
Prescription Malaria pills (confirm with your healthcare provider first)
Antihistamine tablets
Any prescribed meds
Headache and anti-inflammatory tabs
Your Epipen
Extra insect repellent/moisturiser (there is usually some on-site, but more might be needed)
Any cold and flu meds
Ensure you have travel insurance and have alerted your medical aid that you're going on holiday
The Ultimate Safari Tech Gear List
Our advice? Figure our what you want from your experience. Are you there for short social media clips, or do you want high-res images for long lasting memories? Do you have to check in with work while you're away? All these questions! Here's a list that might help you along the way.
Your DSLR and all the lenses: You will be stationary in a vehicle and there'll be space for you take photos. Trust us, you'll regret not taking the zoom lenses. Think lions, bird plumage, and more.
Camera backpack: It's far easier to stash a camera in a backpack and carry it. It's also
Bean bag: You're going to need something to balance the camera on, and some sort of stability.
Phone: This goes without saying. Things like a hand stabilising DJI Osmo works well.
Adaptors: Bring dual adaptors and chargers. Most places you can recharge in the main part of the lodge.
Tablet: Try leaving the laptop at home. If you have to check in with work or home life, bring your tablet with. WiFi can be sketchy so don't expect to do bulk sends and uploads.
Useful Apps: Try downloading a birding app and a stargazing app for your phone. They're so useful while on safari.
Battery pack: These are always useful.
Earphones: Listen to your podcasts, meditations or music without disturbing those around you.
GPS Watch: Get those steps in!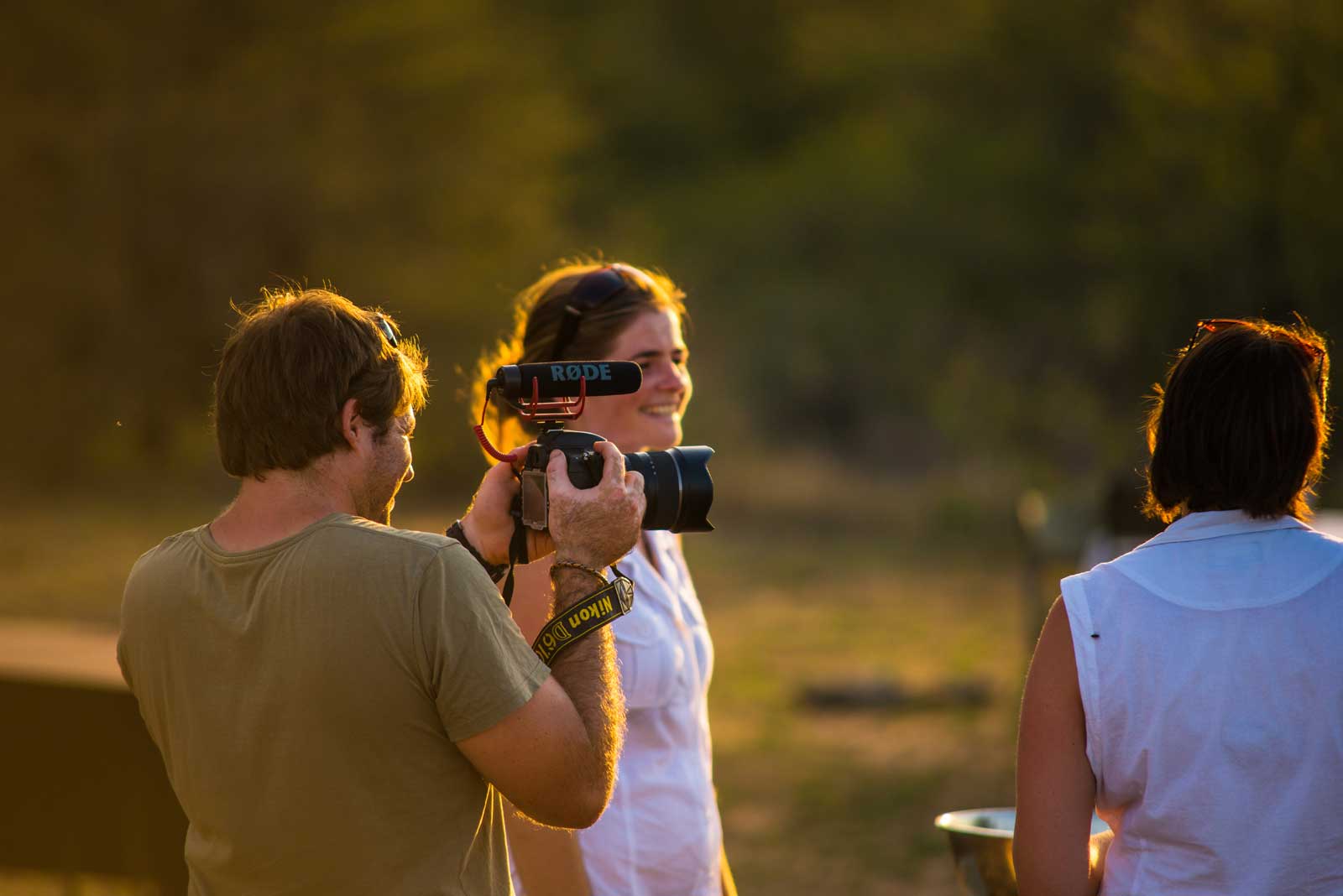 Luggage Suggestions
When you're on safari, you should always be concerned about your weight. Disclaimer: we're referring to your luggage, not the fact that you'll be eating a LOT of a good food. You can be stylish and practical on safari, without overpacking. A small backpack/daypack is recommended in addition to your luggage. There are wardrobes in rooms, so you will have space to store your luggage.
If you're travelling to Botswana, take note of the following: You may need to catch connecting flights in small charter planes. There is no space for large luggage on the small planes. If heading to the Okavango Delta The airline we use has the following guidelines:
30cm (11,8 inches) wide
35cm (13,8 inches) high
70cm (27,5 inches) long
Your luggage cannot weigh more than 20 kgs. It needs to be soft luggage. It's strictly soft-sided bags only, no wheels or frames or rigid sides.
The Money Situation
Most camps and lodges accept credit and debit cards. They have point of sale machines to pay for your bar bill and any curious. It's customary to tip the team and your guide, an amount that it's at your discretion. You will need to withdraw cash prior to arrival to cover these costs. There are gratuity envelopes in most rooms.
You Don't Need
A safari is an all inclusive experience where everything is on-site. Accommodation, teas and coffees, activities and all meals are included in the cost. A well-stocked bar is always available, where you'll settle your bill at the end of a stay. There are NO shops. When you stay at one of our properties, you'll be in a private concession that's completely remote.
To bring any food and drinks
Speakers and music
Your own water
Cutlery
Towels and bathroom amenities
For any other safari packing questions and advice, please contact the helpful and knowledgeable Sun Destinations team.