It's the start of Sun Destinations #AfricaTravelTuesdays and we're excited to launch our very first guest feature in the form of a visual safari blog, provided by UK photographer Meg Donati. In today's blog, Meg talks about the nThambo Tree Camp guest experience,  covering each and every aspect of her stay last year, from her initial welcome to her amazing wildlife encounters…and everything in between.
We love to hear from our guests and now more than ever we want to encourage everyone to get digging in those holiday archives and to share their safari stories and memorable moments with us. To not only be featured across our online platforms but to also get involved by sharing the wonders of Africa with the world, keeping the travel inspiration alive.
> Get in touch to get involved <
Scroll down to see more from Meg's glorious gallery and to read today's guest feature blog.
Hey, Meg here! I'm a photographer from the U.K whose always felt a connection to Africa and I have always dreamed of visiting South Africa to go on a safari. Waking up to the sounds of lions roaring, witnessing the most beautiful sunrises and seeing wild animals in their natural habitat is what I have always imagined a safari to be all about. I had the most incredible time at nThambo Tree Camp and I would love to share my journey into the wilds of Africa with you.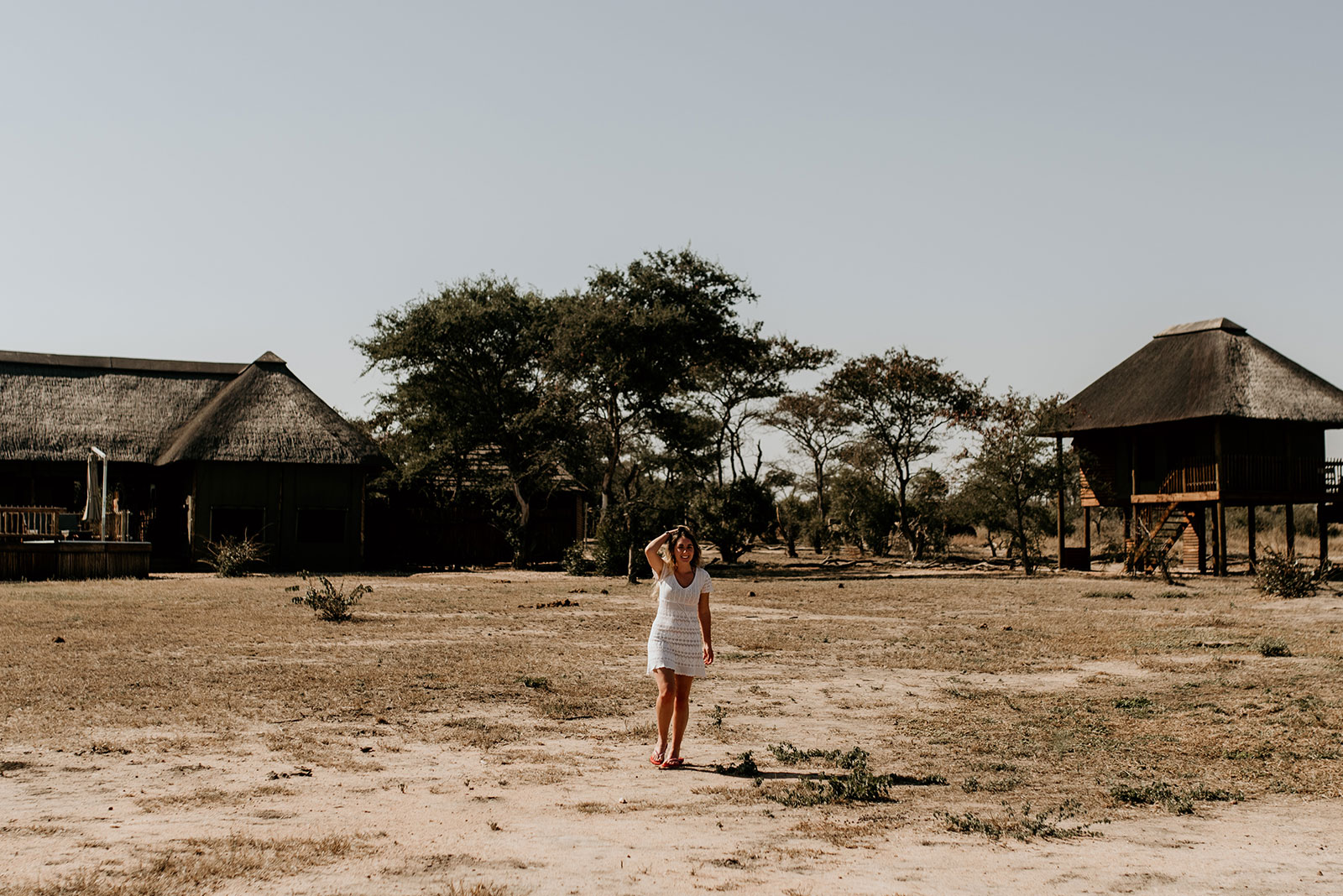 I traveled to Africa with my dad and we both couldn't wait to get into camp. On the drive to camp we saw Giraffe, impala and so many birds we didn't know which way to look!
As soon as we arrived at nThambo it felt like a piece of paradise. The front of the lodge has a beautiful garden full of cacti, succulents and flowers. The first thing that caught my eye was the incredible amount of butterflies that were fluttering around the garden. I had never seen so many butterflies in one place! There was a cheeky Red Hornbill trying to catch them who was clearly going to have a great breakfast!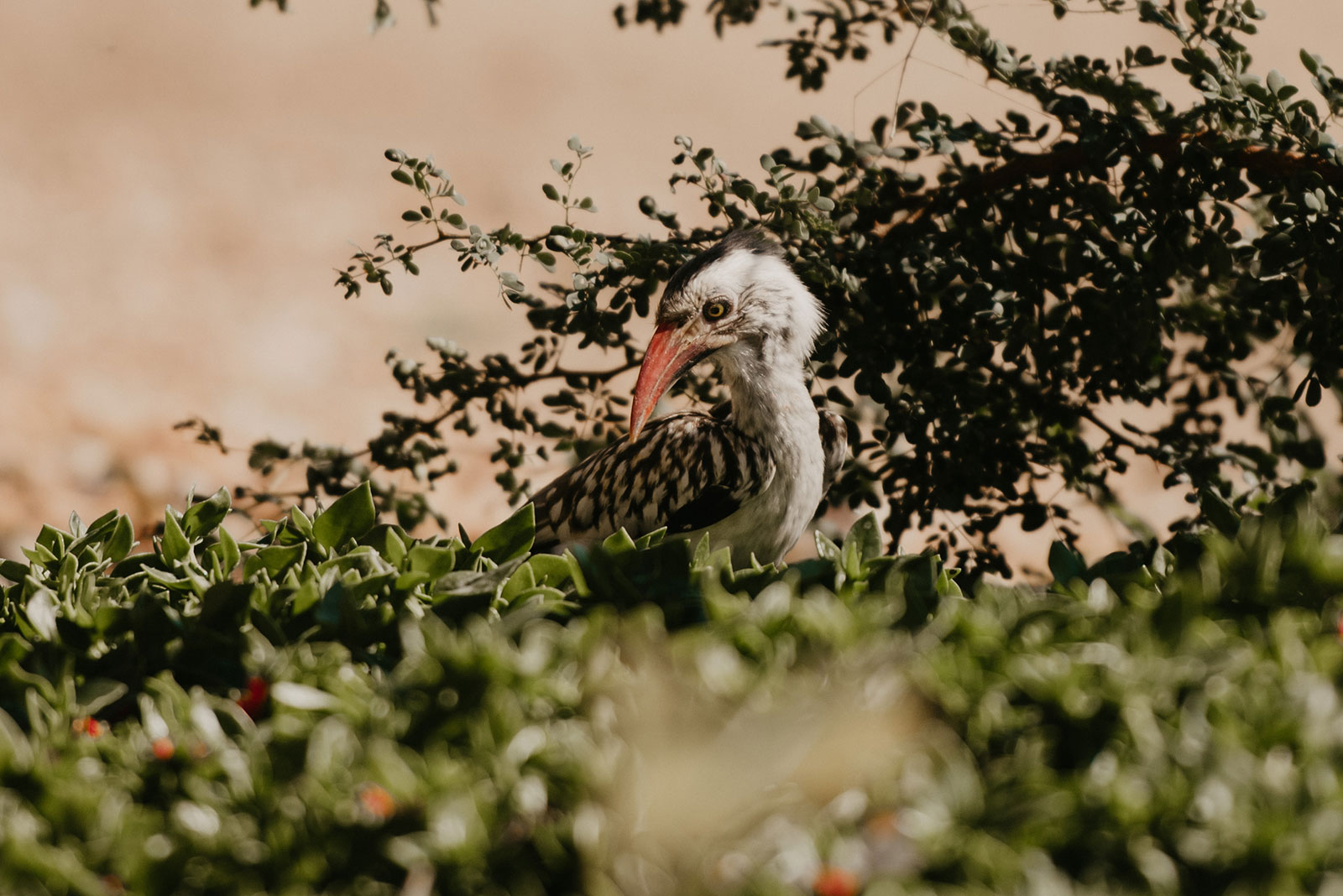 On arrival we were met by our lovely guide Elmar who we would get to know so well during the stay and the lovely Grant who gave us our welcome drinks. As we were having our drinks and enjoying the lovely view from the lounge a Wildebeest came strolling past for a drink at the lodges private watering hole. It was safe to say I was beyond excited!
He stood for a while having a drink and then wondered off back into the bush but not before having a glance back at us as as if to say "enjoy your trip!"
We were taken to our treehouse and it was just perfect. With the houses being up high it meant you have great views of the area, and we could even see the epic Drakensburg mountains in the distance. Instantly the room felt like home (and hey, I really wish it was!)
Game drive time!  >> If you have ever been on safari you know how exciting each game drive is. If you haven't experienced one then take my words and multiply the wonder by a thousand, because words will never do this experience justice. The beauty of being on a true African Safari is that the animals have complete free range. Never knowing what you might see on your drive just adds to the excitement.
Our guide Elmar was incredible! I swear his eyes are like telescopes as he could see things that even when he told me EXACTLY where they were I still couldn't see them! It's amazing to watch the guides and trackers track. They have so much knowledge of the bush that you're in the best hands while on safari. Make the most of their expertise by absorbing their information and asking any questions you might have. They live harmoniously alongside such wonderful animals and they are totally at one with the bush.
Seeing your first big sighting in the bush fills you with so much joy! I remember mine so clearly… We heard over the radio that there had been lions spotted not too far from where we were so off we went in search of them. When we found them there were a coalition of 4 young males. This was a sight to behold! As with most of the game we saw the lions weren't fussed about the vehicle as they're used to the safari jeeps. This meant we could get close to the lions and watch them as they found the perfect place to do what lions do best… sleep. What I love most about nThambo is the welfare of the animals is always on the front of the guide's mind. They know the behaviour of the wildlife so well that they read their signals and so know how close the animals are happy for us to get. They park a safe distance away and allow the animals to come closer if they wish. Which they often do, especially those curious elephants!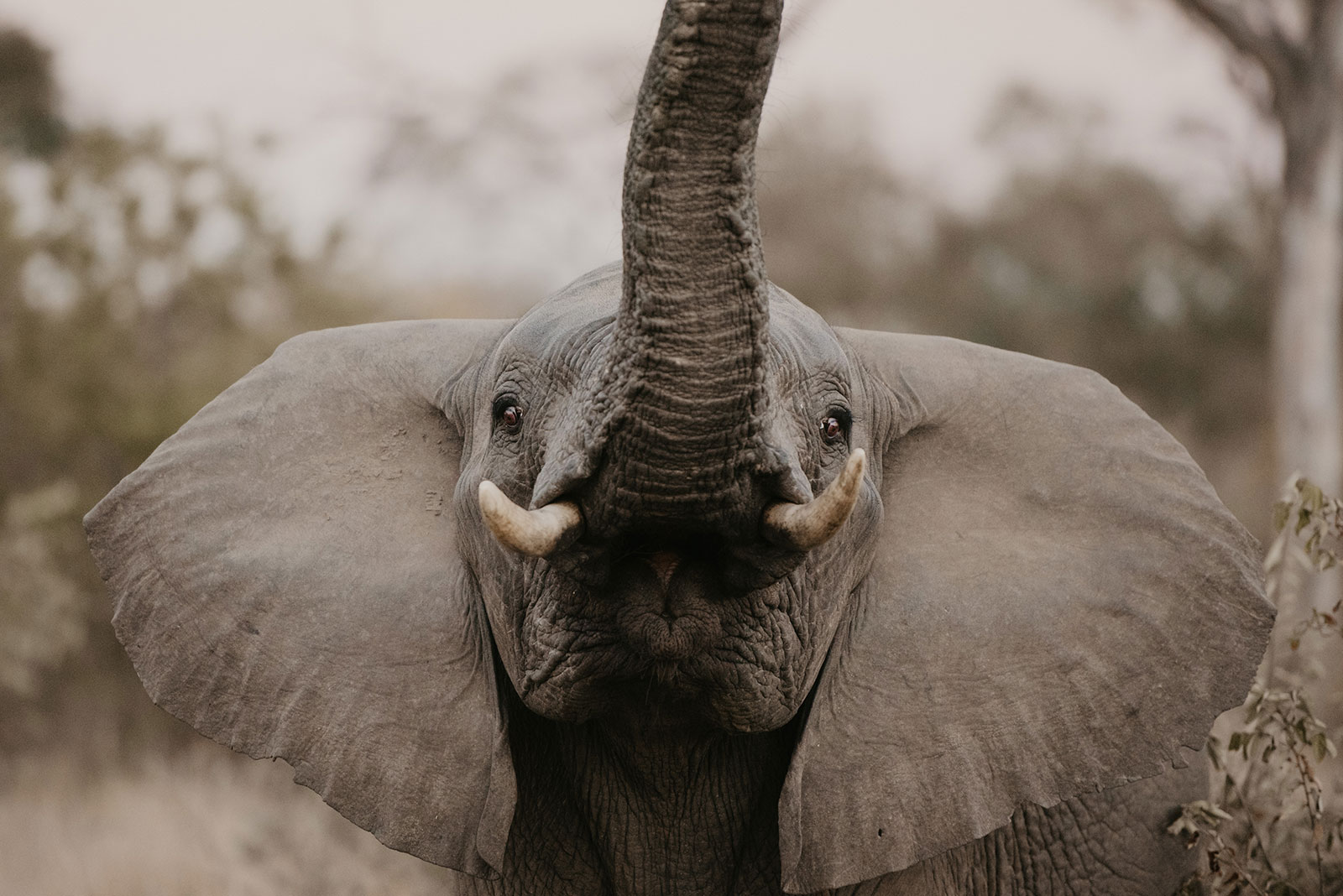 The respect that the guides have for the animals is wonderful, imagine a world where all of humanity acted this way! This is one of the many reasons I think people should experience a safari. You can't come back from seeing these wondrous creatures safe and happy in their natural home and not want to do something to help conservation and protect more of these wild places.
We were really lucky to see so many amazing animals while at nThambo. We ticked off the big 5! Here are some of my favourite sightings that I would love to share with you…
One of my most memorable sightings occurred when we were driving… Elmar suddenly stopped the car and pointed out a Hyena making her way out of the long grass and to our amazement she had a cub with her. The cub came right up to the vehicle and just stopped and looked at us for a moment and then proceeded to follow its mum across the road and back into the bush. Being able to look at the precious young hyenas in the eye, as it looked back at us in return was a real heart melting moment!
Another incredible and my most memorable sighting was when one morning we set off in search of a leopard who was in the area and not long after looking for a while Elmar suddenly stopped the car and said "I can't believe it!" The leopard was peacefully lounging in a tree we were just about to drive passed! We watched him for a while and then moments later I captured my favourite image from the trip… As a photographer you're always looking for eye contact with animals. It really builds a connection to the subject. The leopard started looking around and in a split second he turned and looked right at me! I think my heart might have skipped a beat as you can be waiting hours for a moment like this. This moment I will treasure forever.
nThambo also offers night drives which gives you a whole perspective of the bush. The bush is a whole new world at night, so I thoroughly recommend this experience. We saw Chameleons, a Spotted Genet and the sounds of the bush alone are enough to take your breath away. One night as we were enjoying a drink in the lounge, elephants came to drink at the camp water hole (great minds think alike ey?) So we sat there and just enjoyed watching them as we had our nightcap.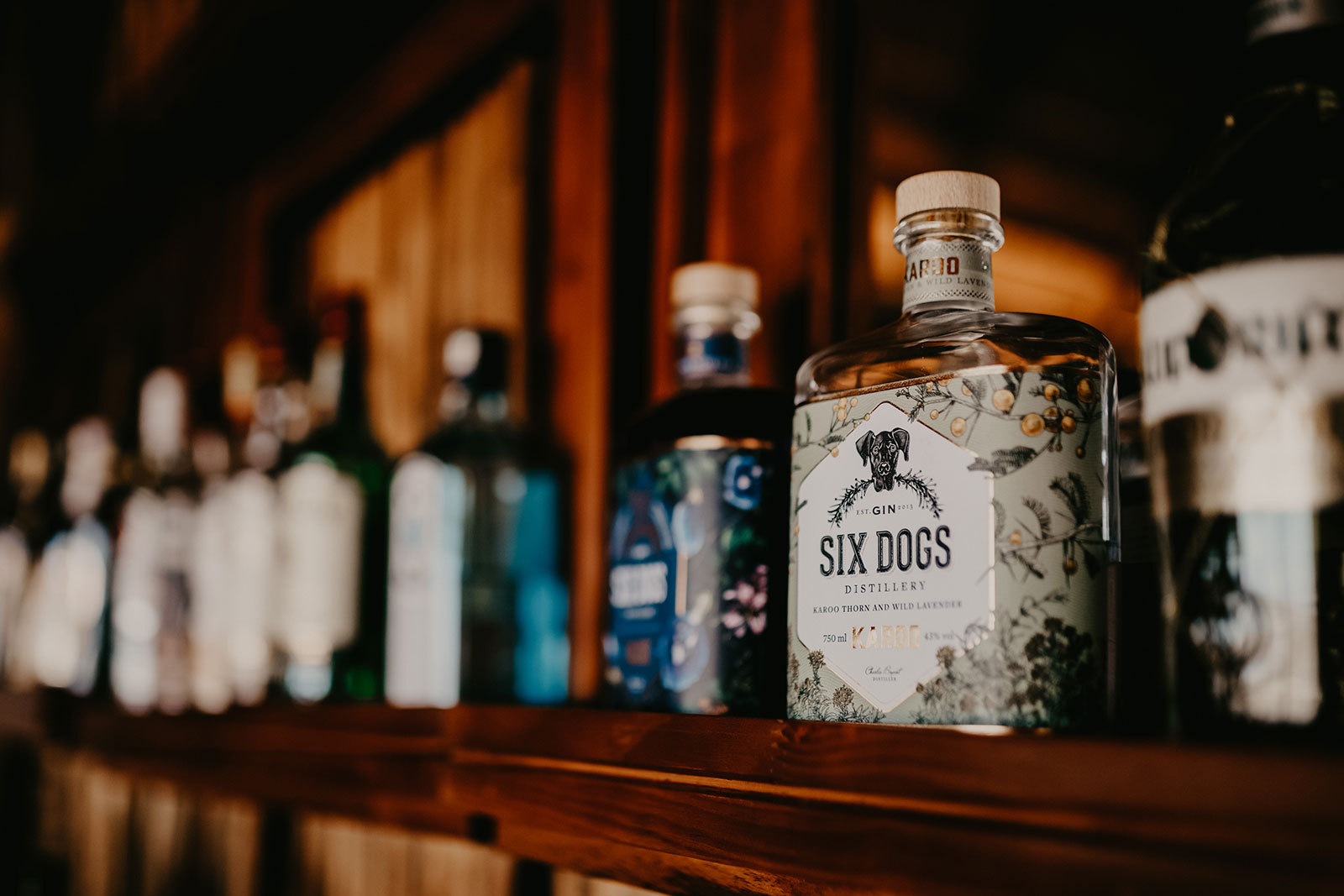 A safari is not just about the big stuff. The flora and small animals are just as fascinating. One day we headed out on a bush walk and this was something I was really excited about as not every lodge offers this activity. I'm so glad we did it! Imagine… You're on foot in the beautiful surroundings of the bush with some of the biggest and most beautiful giants such as giraffes wandering around you. They're aware of and at peace with your presence. It's so humbling to experience. This is where I felt my greatest connection to the bush. During the walk Elmar taught us all about the different trees, the animals that we wondered passed and so many different animal tracks.
nThambo Tree Camp as its set in the Klaserie Private Nature Reserve in the Greater Kruger region of South Africa. A great factor here, that you may not have thought about is that there can only be a limited number of vehicles and guests in the reserve at one time. Which in turn means with most sightings you get to be the only people with the animals making your safari truly special and private.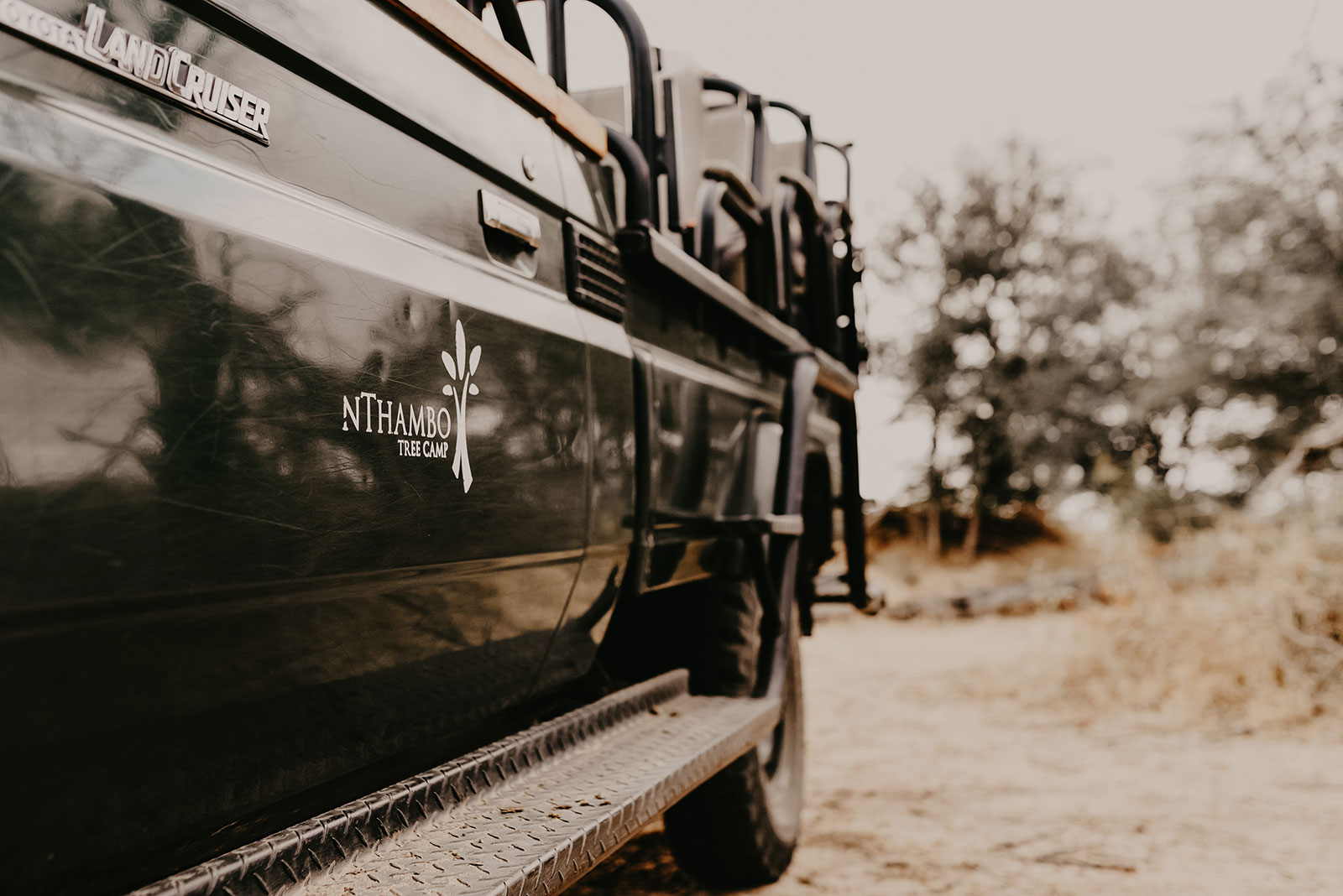 The lodge is made entirely of wood and thatched roofs so it blends right into the environment giving you a truly immersive experience. In the main lodge there's a bar and lounge area where I loved spending time between game drives reading and editing my photos from the day. As I mentioned previously, the lounge overlooks the camp waterhole so you can enjoy watching the wildlife come to drink. We would all eat our meals together in camp and talk about what we had seen that day or what we were hoping to see – this is very special and is where I really got to know the other guests, we shared many laughs together. There's an outdoor seating area with a campfire, where one night after our game drive we had a lovely evening chatting and we were treated to a great Braai (BBQ) and South Africans REALLY know how to do a great BBQ!
nThambo is a lovely intimate lodge as it accommodates up to 10 guests. You get to know the other guests and staff really well by the end of your stay. The nThambo staff are incredible people! They're all so passionate about what they do and the beautiful area they call home. Nothing is too much trouble and they will go above and beyond to make your stay as special as it can be. During my time there it was mine and another guests birthday and so as a surprise they brought us out a cake and sang happy birthday to us in pure South African style! It's these special moments that really make nThambo tree camp stand out. I made lifelong friends while in South Africa and I have kept in touch with the guys from nThambo.
I want to thank the guys at nThambo and Sun Destinations for making my time with you so special. South Africa was my first safari experience and it sparked such a passion in me for conservation and wildlife. This passion has grown into my career. I love to advocate conservation and share these exceptionally special moments and places with people who may not be able to experience it for themselves in person but can through my photography and words.
If you do one thing today add a South African Safari to your bucket list! You will not regret it. Give the guys at sun destinations a message, they would love to have you stay and will graciously share their passion for Africa with you too.