Roaming photographer and videogapher, Teagan Cunniffe, was recently on assignment at Roam Private Game Reserve. She caught up with the team from Roam, and documented the darting and GPS collaring of one of the male cheetah. In her video she interviews Don from Roam and Dr Willem Burger from EWT. The darting and fitting of the collar was quite a procedure, with all hands on deck. 
Below is Don and Abi's update and account of the collar fitting.
Over the last few years, with the help of the Endangered Wildlife Trust (EWT), Roam has successfully introduced three cheetah onto the reserve. At the moment we're keeping our fingers crossed for cubs. Any cubs born on the reserve will be re-introduced to a EWT cheetah program, which aims to expand their range and conserve these majestic cats.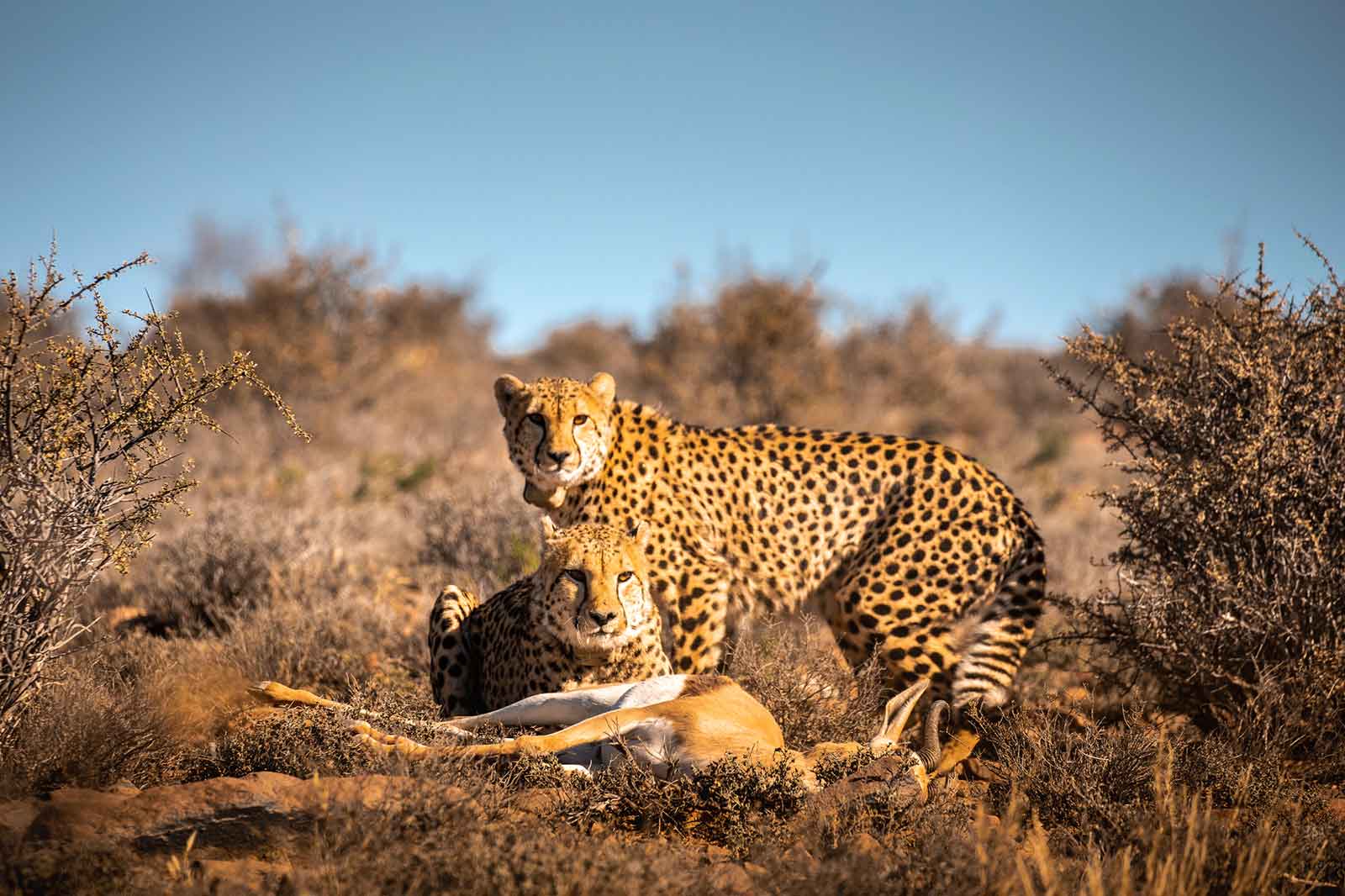 The first to be introduced, two years ago, were a coalition of two brothers. On their own they don't add value to the EWT conservation goals of diversified genetics so we introduced a female last year in the hopes of them reproducing. Female cheetah become sexual active at around 3-4 years old, which is the age bracket our female fits into. It is however extremely difficult to keep track of cheetah on Roam due to the landscape, so we needed a way to monitor how often she is meeting up with the coalition.

Upon introduction, all our cheetah were fitted with tracking collars and while the radio component (VHF) battery lasts for years the GPS component has a very short life, about 18 months. These collars also have the added benefit of helping us find the cats with guests when we track them on foot!!!

With the aid of the GPS collars we are able to track the cheetah remotely and download historical movement data. Not only does this give us an idea of where to find them when we need to, but it shows us how often they are in the same vicinity and how long they remain together. When mating cheetah should remain together for a few days and will mate regularly during this time. If mating was successful cubs would be born about three months later.

The GPS collar on the coalition  needed replacing to ensure accurate monitoring of cheetah movement and meet ups. We called in Dr Willem Burger who specializes in big cat veterinary work and is our go-to vet for our cheetah. He successfully darted and fitted the largest male in the coalition with the collar last week! During the time of collaring, the smaller of the brothers stayed on the horizon watching and calling to his sibling throughout.

Photographer Teagan Cunniffe, who was on assignment at Roam to document the darting, and captured the entire day – including the heart-warming moment of the two reuniting.