Situated on the edge of a gorge in Zambia, is the inimitable Taita Falcon Lodge. Taita's claim-to-fame is its mesmerising views of the famous Bakota Gorge and its dramatic surroundings. Although Taita is secluded, it's also conveniently located a short distance away from the world-renown Victoria Falls. With its vast viewing platform, open-air bar and lounge perched over the sheer cliffs, Taita's owners have certainly showcased the dramatic views. Owned by the hospitable Faan and his wife Anmarie, Taita Falcon exudes the warmth and personality of its owners. Faan and Anmarie poured their heart and soul into the building of Taita, and developed it into the lodge it is today. Business-minded Anmarie keeps things running in the background, while charismatic Faan keeps guests entertained and looked after with his antics.
Find out more about the "heart" of Taita Falcon Lodge by reading our interview with Anmarie below: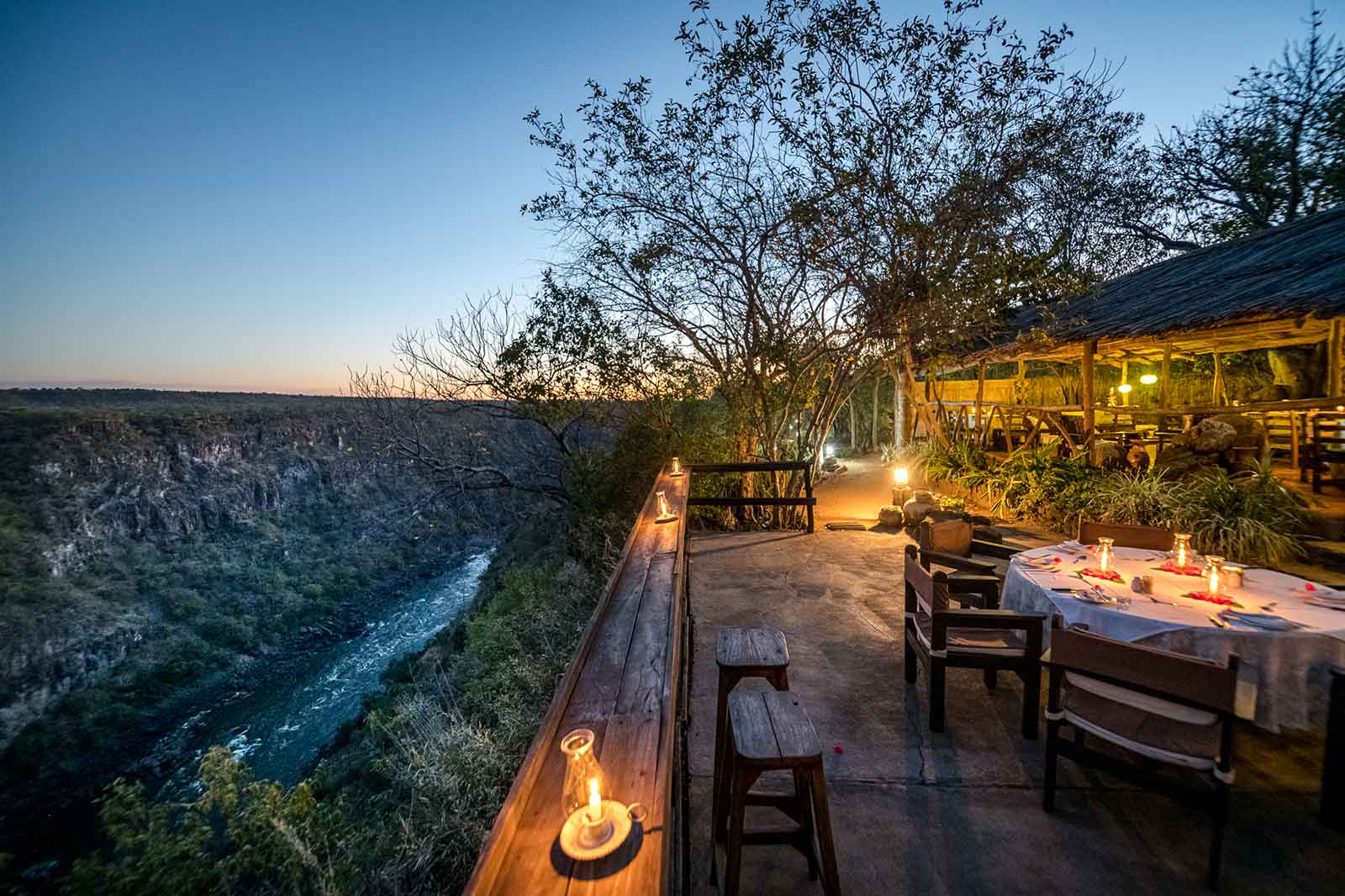 When did Taita first open?
15 March 1997
Why is it called Taita Falcon Lodge?

The lodge is named after the Taita falcon, a rare falcon that breeds in the Batoka Gorge and a few other places in Africa. It's only sighted at certain times of the year if you are lucky. They are shy and fast and can easily be confused with the Peregrine falcon.
Is there wildlife in and around the lodge?

We have leopard (not sighted often but heard at night), baboons, klipspringers, and small antelope like duiker. Elephants and buffalo wander through especially in the rainy season. We also have loads of raptors and birds. A few examples include: Black eagles (used to nest in front of the Lodge but unfortunately moved), Augur Buzzards (also nesting in the gorge in front of the lodge), brown snake eagle, black-breasted snake eagle, Peregrine Falcons, Taita Falcons, and more.
Did you build the lodge yourselves or buy it?

When Faan came to Zambia he was looking for farming land. He met chief Mukuni (the local big chief) who offered him land on the gorge. Faan walked the gorge from about Rapid R14 to R25 (distance in the gorge measured from rapid to rapid) and when he passed the area where the lodge is now (above R17) he tied his handkerchief to a tree because the gorge opened up here and offered stunning views. He saw the land was not good for farming and decided to build a lodge. As there was not even a road out there, the first time I saw it, I was not interested. But in 1996 when he could give me a proper toilet and shower I joined him! I must say, without Faan' s hard work and tenacity it would not have happened!
What's your favourite part of owning a lodge?

The lodge is our "baby" and with blood, sweat and tears and very little money we built it so we like all of it. But most probably the views, nature and the sound of the river are our favourites.
What do people love best about Taita?
Most probably the views and our hospitality.
What's your personal favourite activity around Vic Falls?
The actual Falls, sunset cruise and elephant cafe.
What is your speciality dish at Taita?

No specific one – all our meals are hearty and home-cooked – no pretty food for us! What we offer is good food!
Do you do anything special for honeymooners?

Make their room special with seeds, flowers and bubbly. We first do dinner in a small private lounge with lots of candles, making it romantic.
What makes Taita a top choice and stand out from other lodges?

Our view! We are the only lodge on the edge of the gorge in Livingstone. A different view of the Zambezi river from any other Lodges. And our ambiance and hospitality!