While on safari in a private reserve, the morning activity commences at roughly 5:30 – 6:30 am. Guests are awakened by their khaki-clad ranger and encouraged to emerge from a deep slumber to "come find lions".  Game drives and bush walks generally span across a time period of 3 hours, and climbing out of your Egyptian cotton linen early in the morning is well worth it. The evening game drive starts at about 15:30 and ends shortly after the 'veld is shrouded by a canopy of dark night sky. This allows for a short window, twice a day, for us to observe wildlife in their natural habitat. Most of the time we're lucky and qualified trackers and rangers can predict behaviour. They also follow fresh tracks, listen for contact calls, the crunching of trees and alarm calls from the more shrill animals, which points us in the right direction of the big five.
The wild is always unpredictable – this we know. So, while we have those period of times covered , what happens during the dead of night and what unfolds amidst the acacia and tamboti trees while we're eating our quiche for lunch? Truth is, we don't know…Unless we set up a trails camera in high wildlife traffic areas. Which is exactly what Christian Louw and the team from Ezulwini Game Lodges did.
The results were astounding and Christian will continue to send through updates of what happens behind the scenes in the Balule Nature Reserve. This has helped tremendously in identifying the lion faces behind the contact calling at night and the origin of the ring-barking of the surrounding trees.
At Ezulwini, we're quite lucky in that we've maximised the game viewing experience. The elevated skywalks at the lodge allow for in-between activities game viewing. Elephants and other animals are drawn the river and the area surrounding Billy's lodge, which means guests can enjoy game viewing all day long! However, the trails camera has certainly wowed us with its results.
Here's what we've seen : 
1. Elephants : The gentle pachyderms trundle their way down to the nearest source of water. Elephants digest plenty of vegetation and thus need to drink on a daily basis. They also enjoy dust baths and swimming.
2. Big cats : A powerful and dominant male lion came to drink from the waterhole. Had he just finished devouring a kill? It's hard to tell in the images. Then we had a leopard patrolling its turf. Was it Chavaluthu, our favourite male?
3. Plains game : 
Impala and kudu appear to be enjoying a drink at the same waterhole. Impressive to see not one, but three kudu bulls!
4. Warthogs enjoying a mud bath
Sounders of warthog often dart through the bushveld, with their radar-like tails pointing the way for the others. The tend to be quite camera shy, so this is quite the epic moment caught on camera!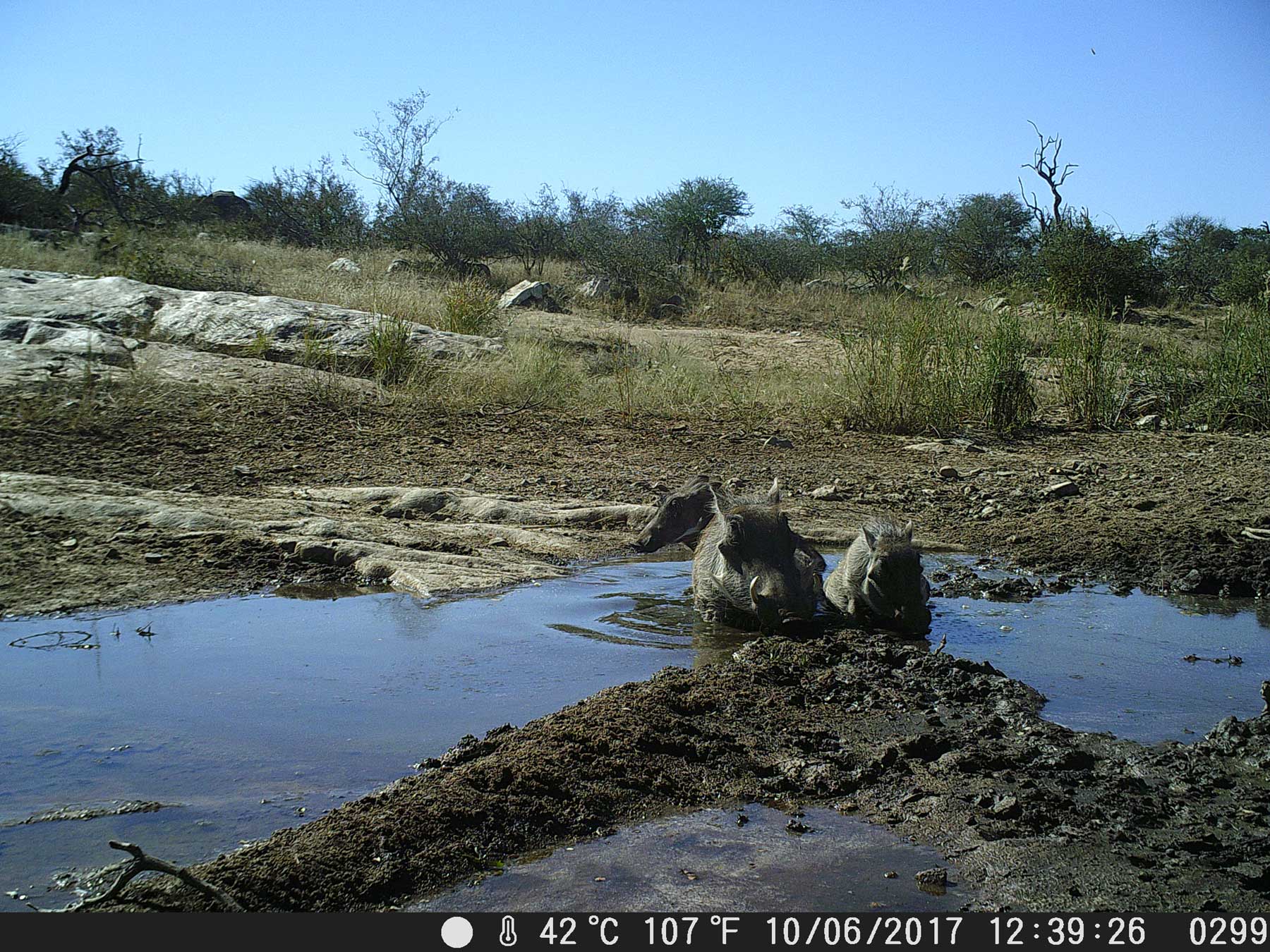 Keep an eye out for our #CameraTrapTales series where we uncover the secrets of the bushveld and "what happens behind closed doors". Human beings are naturally nosy inquisitive and always want to know what's happening in their surrounds.  The hidden trails camera in the Balule Nature Reserve gives us further insight into the wild world of animals to satisfy our curiosity, and educates us further about pride dynamics and species behaviour.