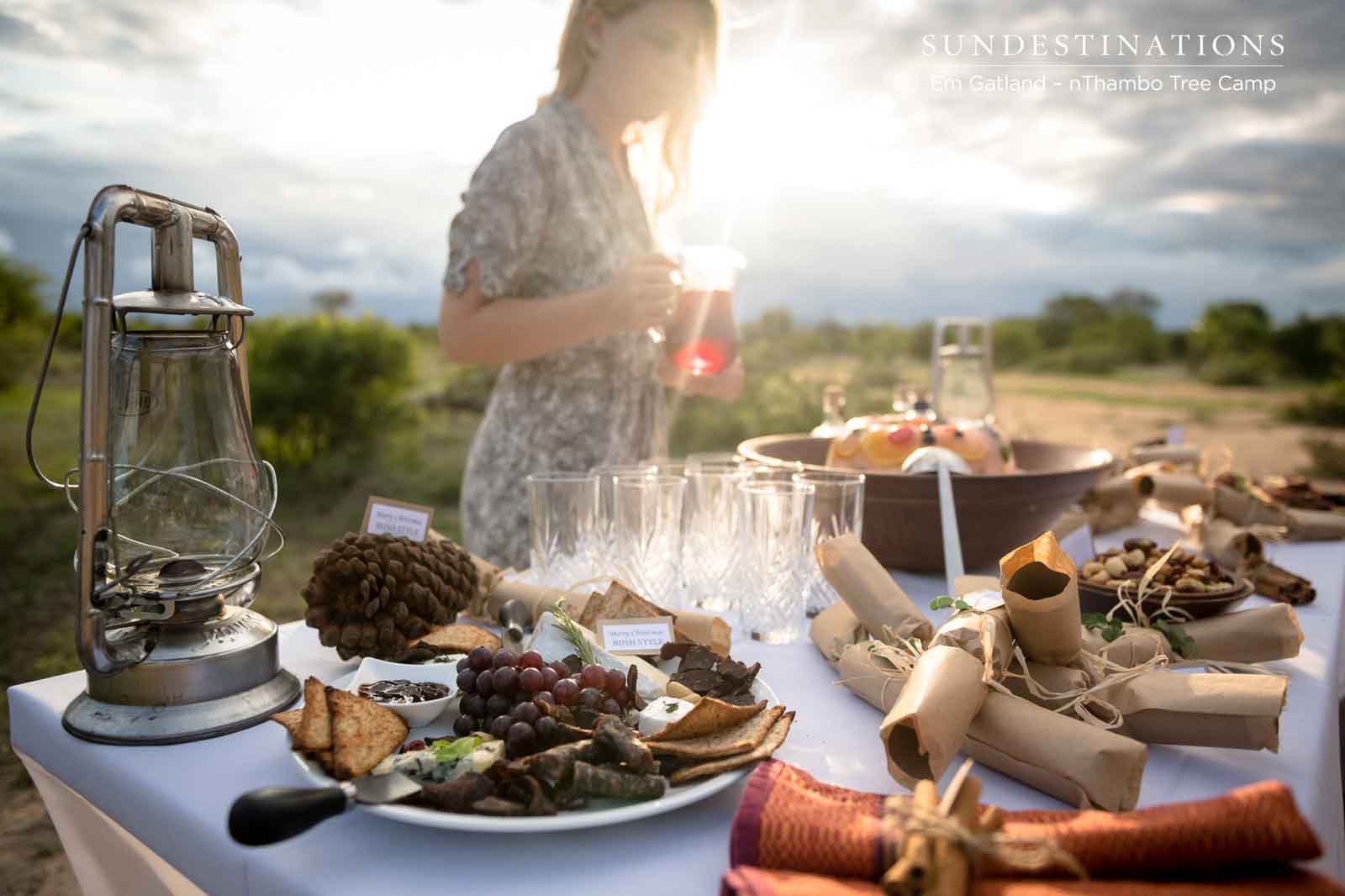 Today is Christmas Day ! For those celebrating, we wish all and sundry a day filled with celebration, love and poignant moments. If you're not celebrating Christmas, we wish you a happy holidays and enjoyable time ahead. The teams based at our camps in the Balule, Klaserie and Maseke Game Reserves pulled out all the stops for this silly season. One thing is for certain, an African bushveld Christmas is a far cry from the  fairytale white Christmas depicted in Hallmark movies. Summer in South Africa is hot. And the inland areas are the hottest! The sizzle of the searing African heat here in the bushveld is surpassed by the sizzle of that succulent pork roast you're about to serve to your loved ones. Whether it's the weather or the food, it's crackling hot out there.
Africa on Foot and nThambo Tree Camp decided to host a festive sundowner session at the mini bush bar with a few of the lodge staff, trackers and guides. To break that furnace style heat, it was decided that the Christmas sundowner set-up would have a wintery Christmas feel.  A fantastic contrast to the sweltering weather. Eco-friendly Christmas crackers (we'll discuss these eco-friendly Xmas crackers in another blog) were distributed among staff while festive cocktails and more-ish snacks were laid out on the table. Adorning the table were a few perky pine cones, tightly-wrapped cinnamon sticks and burnt orange napkins. All the right Autumn winter colours for Christmas. A favourite was the berry jelly mould and the pigs-in-blankets! A definite UK meets SA Christmas vibe.
Chacma Bush Camp put up a delightful natural looking Christmas tree on the patio in front of the waterhole. The team also enjoyed a few drinks and snacks to celebrate. Ezulwini Game Lodges prepared a delightful table of crunchy biscuits which guests have been snacking on since Christmas season began. We recently shared Angele's images of her homemade biscuits, iced to perfection !
Stay tuned for two of our next blogs which include details about our eco-friendly crackers and a recipe about one of our favourite cocktails.