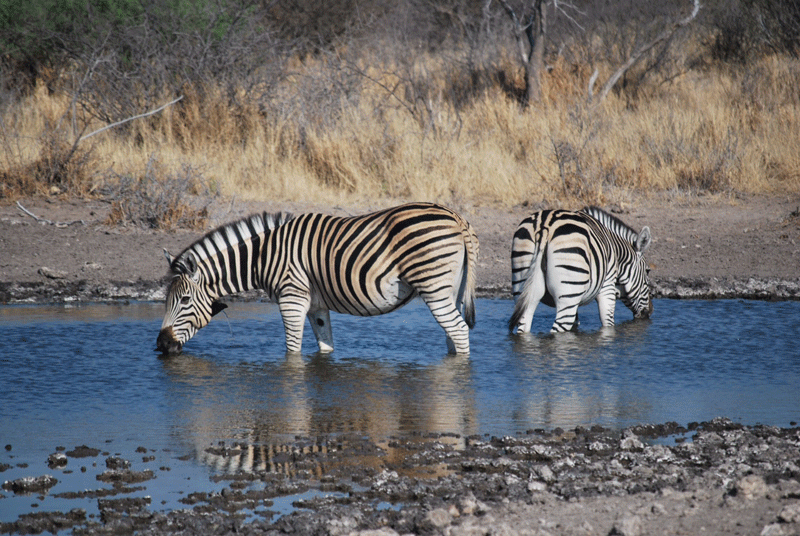 Mike and Fiona Clarke are back in the bush and, as always, we are happy to hear from them giving us their thoughts on our camps! Here's the Haina Report:
A change to our usual South Africa trip; we decided to spend a few days in the Kalahari first. We arrived at Botswana airport, apprehensive of our light aircraft flight onwards to Haina Lodge. Our pilot, Ash, greeted us and took us over to a small 5-seater Cessna (1st time on a small plane!). We took off towards the Kalahari, a slightly bumpy ride due to the good weather, and thermals. We eventually arrived at Haina airstrip, greeted with a big wave and smile from Adriaan, the manager, in the game vehicle on the airstrip – our holiday had started!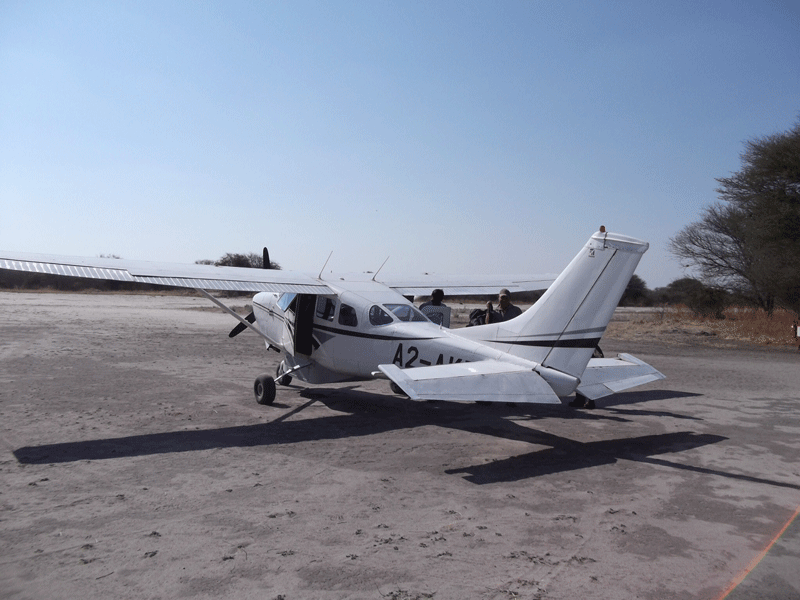 The lodge at Haina

is wonderful, overlooking a small waterhole – a rare drop of water in the bare landscape. When we arrived, kudu and impala in abundance were having a much needed afternoon drink. The rooms (well, luxury tents), are also welcoming. Ours was called Itermagog – Afrikaans for pangolin (a good sign). There were female leopard tracks all around it, but no signs of her – apparently they were from the previous evening.
We have travelled extensively throughout Africa, and this lodge ranks high in our list of excellent camps – as good as to say that there is nothing that would need changing as it is perfect the way it is. Food here is wonderful; if you love your food, you'll be in heaven. Real South African dishes – pojtie, babotie, and kudu braai – all served to 5 star, a la carte standard, and plenty for everyone, plus some to spare. The atmosphere here is very relaxed, just chill by the pool, or watch the wildlife at the waterhole. Adriaan and Wanda are exceptional managers and hosts, as is their trusted dog, Dimples, a very friendly Staffordshire terrier (who loves travelling on the bonnet of the land cruiser when given the chance).
If you are looking for the Big 5 then this is not the place for you. If you are looking for an informative, adventure-filled time, then Haina is definitely the place to go. There is the walk with the San people – the traditional Kalahari Bushmen. They show you how to track, catch game, find water and light fire, the traditional way – a real experience not to be missed. For the more adventurous, there is quad biking in the sands of the Kalahari – a different and thrilling way to see wildlife. We saw kudu, impala, and a leopard tortoise whilst careering through the landscape at high speed, leaving clouds of dust behind us!
Game drives are taken twice a day, where you have a good chance of seeing true Kalahari antelope – eland, springbok, hartebeest and most impressively, the desert-loving gemsbok (or better known as oryx). All these are seen on most game drives, posing nicely for impressive photos. There are also the small animals and birds, often overlooked on busy game drives. We were lucky enough to see yellow mongoose – an animal we have never seen before on our travels. Then of course there are the famous

'black maned lions' of the Kalahari

– large impressive lions only found in this region of Africa.
Adriaan tried his utmost to find these elusive animals for us. We found fresh tracks for a female lioness who came to the camp watering hole one evening, while we were out on game drive. We tried to find her, but she had disappeared back into the bush. We then found her fresh tracks the following morning, but missed her by mere minutes as she vanished from the area. Adriaan is sure she has cubs not far away that she was returning to feed. On our last night we heard male lions roaring in the distance – would we be lucky enough to see them? Once again Adriaan tried to find them, looking everywhere for their large tracks in the sand – but not luck. We'll just have to come back again to this little gem in the understated Kalahari to see them (not that we really need a reason).

So, our time was up, as the small Cessna plane landed at the locally named 'Haina International Airport' to collect us. We waved goodbye, promising to return. If you are planning a trip to Botswana to visit the Okavango Delta or Chobe, don't forget this little piece of paradise, nestled on the northern border of the Central Kalahari. Add this to your visit and we promise that you won't be disappointed!