A few months ago we introduced you to the leopards of Tuskers Bush Camp. With much excitement, we revealed images of our active cats enthralling us with their finely tuned stalking skills and ambushing techniques. Over the past few months we've made it a focus to place, identify and get to know the big cats of our expansive traverse littered with acacia scrub and mopane woodland. Leopards certainly have plenty of pockets of vegetation to duck and dive away from observing eyes. Naturally aloof, these cats can be tricky to find. However, Tuskers has certainly hit the jackpot in terms of leopard sightings and the lush thickets certainly haven't kept the sightings at bay
A while ago, we reported a confirmed sighting of two leopards and speculation of a third male. If you've been following our Tuskers leopard stories,  you'll know that one of the confirmed cats is a stealthy leopardess fond of weaving her way towards tent 6 at camp. She is often accompanied by another leopard, who we assume is her cub. When a leopardess gives birth she stashes her cub in a den for up to 3 months and shortly after the 3 month mark, it will join its mother on hunts.
The cub stays with its mother for 12 – 18 months, learning the ways of the wild and how to fend for itself. Eventually the cub will learn how to take down its own prey and occasionally join its mother for dinner while its establishing its own territories and boundaries.
The leopardess that patrols the Tuskers traverse, gave birth to her cub in the store room on the property prior to us reinventing Tuskers Bush Camp. Female leopards favour areas that have a ready availability of food and potential den sites. This is probably why the leopardess continues to return to this area and her cub, although old enough to seek a life of solitude, is still somewhat tied to her apron strings.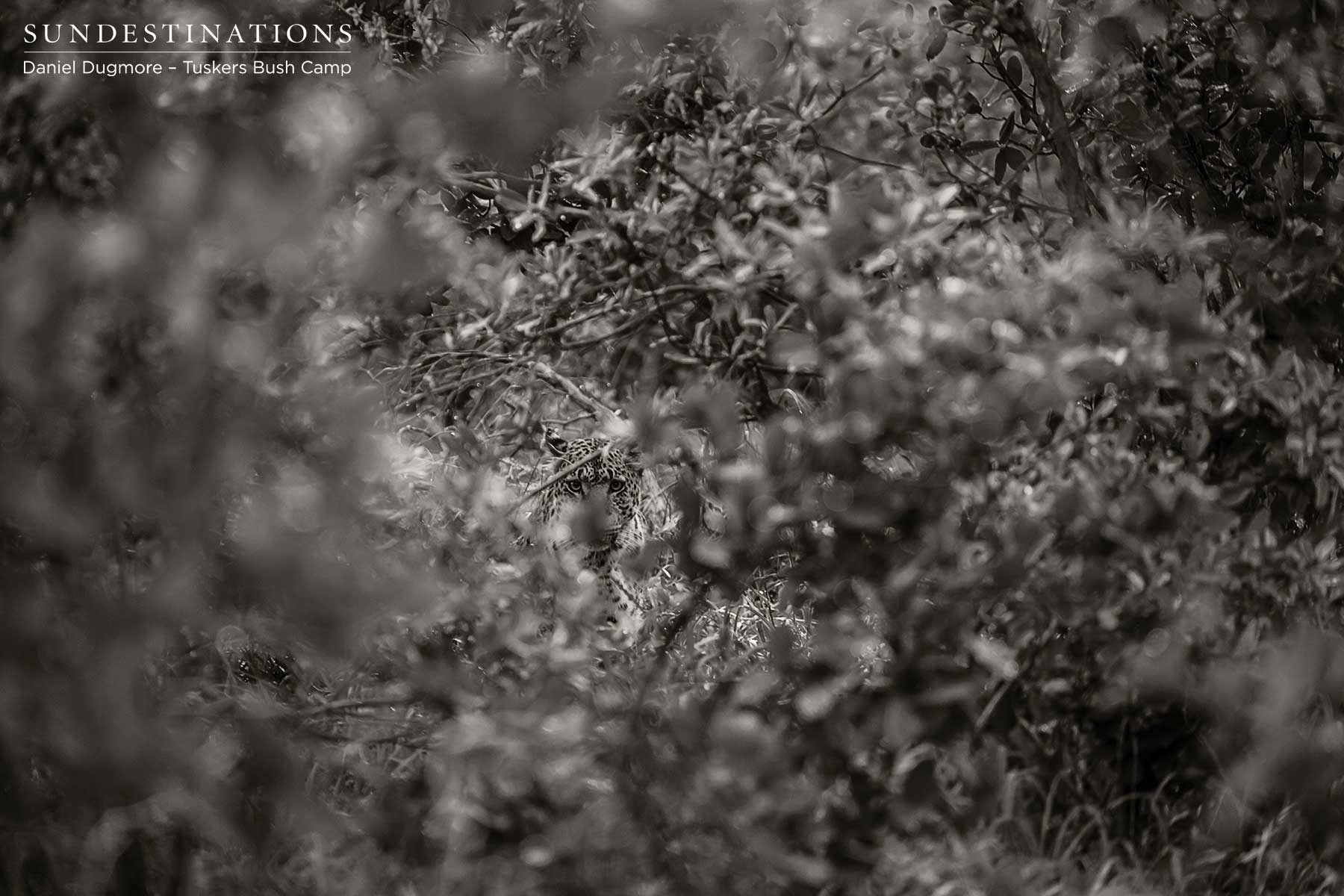 These two leopards have dominated our recent sightings, but recently a sighting of another male leopard has emerged.
Over the past weekend a lone male leopard was spotted. At first he was seen scouring the area of a recent elephant kill. Leopards, although exquisite and successful hunters, are not above being opportunistic. Our resident photographer, Dan, spotted the male the day before but the leopard was exceptionally skittish and weary. The following day the same male was seen and appeared far less neurotic.
We cannot confirm the I.D of this male, but we think it could be the father of the cub. Males cover a wide area, so it possible that he comes and goes at intervals. Male leopards normally establish territories where there is an availability of females.
Are there more graceful female leopards that we haven't spotted? What are his reasons for being in the same area over consecutive days?
We have yet to find out.
The leopard sightings are increasing and Daniel Dugmore is there to document every step. We're keeping our eye on this male and the mysteries that surround
If you're interested in helping us establish and uncover the enigma surrounding the leopards of Tuskers Bush Camp, then please read our leopard blogs for a bit of history: