Umkumbe rangers have, yet again, inspired us with their leopard photos and videos fresh from the Sabi Sand. While our powerful – and favourite – male, Mxabene was spotted on more than occasion during the course of last week, it is the young ones we're keeping watch over. Forget the folly of youth, our leopard cubs are proving to be quite stalwart creatures when it comes to aggressively marking territory and conducting finely-tuned kills. Like most young species, they tend to be somewhat shy when it comes to "owning" their role in the wild.

This makes sense, given that they're still ill-equipped to handle strife and have yet to hone in on their instinctive skill-set. Tentatively, the young and the restless cubs make their way through the wild trying to establish their place in the bushveld.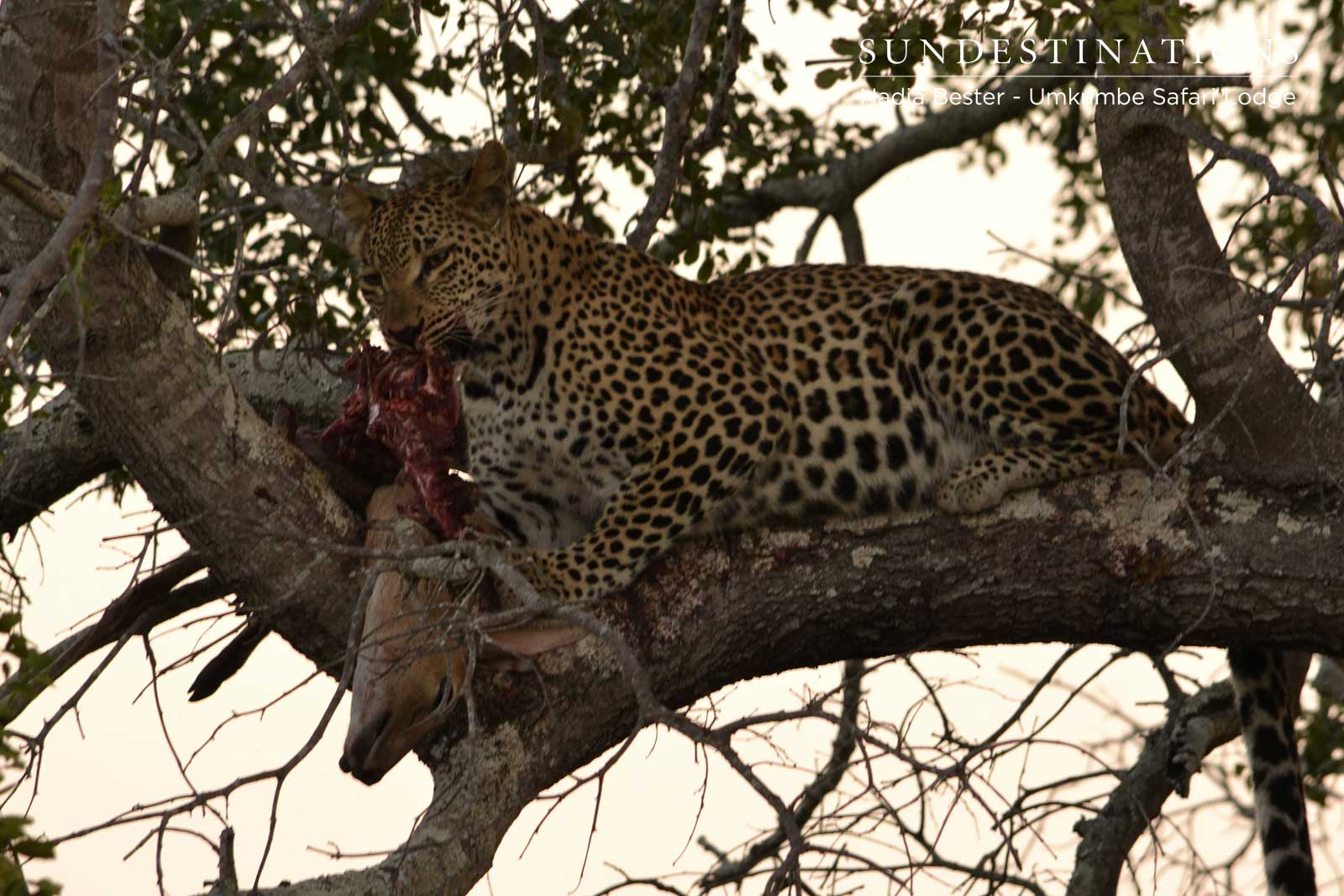 These leopard cubs have been raised well. They've been nurtured and looked after by regal legends that we've written about, observed and video'd. The new generation of leopards belongs to Little Bush's cub and White Dam's cub. Two well-known leopardesses, each with a different temperament and brutal way of life in the Sabi Sand, have proved to be excellent mothers. Of course, any leopard sighting gets our vote, but it's particularly rewarding seeing "Generation X" thriving and growing in the wild.
Cue the entrance of Little Bush's female cub and White Dam and her male cub. Little Bush's cub has clearly learned how to hunt effectively and ambush her prey. She was seen with her duiker kill in the safety of a tree. This is key to dinner success – learning the art of how to drag your carcass up high into an area of safety, out of the prying eyes of hungry scavengers. After all, Toothfairy the hyena and her gang rule this part of the block! Little Bush and her cub have ensured that we've enjoyed plentiful sightings of them.
White Dam and her male cub were spotted just outside the confines of camp, which means the vehicle didn't have to go far to enjoy big cat sightings! Ranger Kyle sent us a clip of White Dam casually strolling past the game viewer, indicating she is accustomed to vehicles and sees no threat with their presence.
Hopefully these leopards, the young and the restless, will become legends in their own rights.