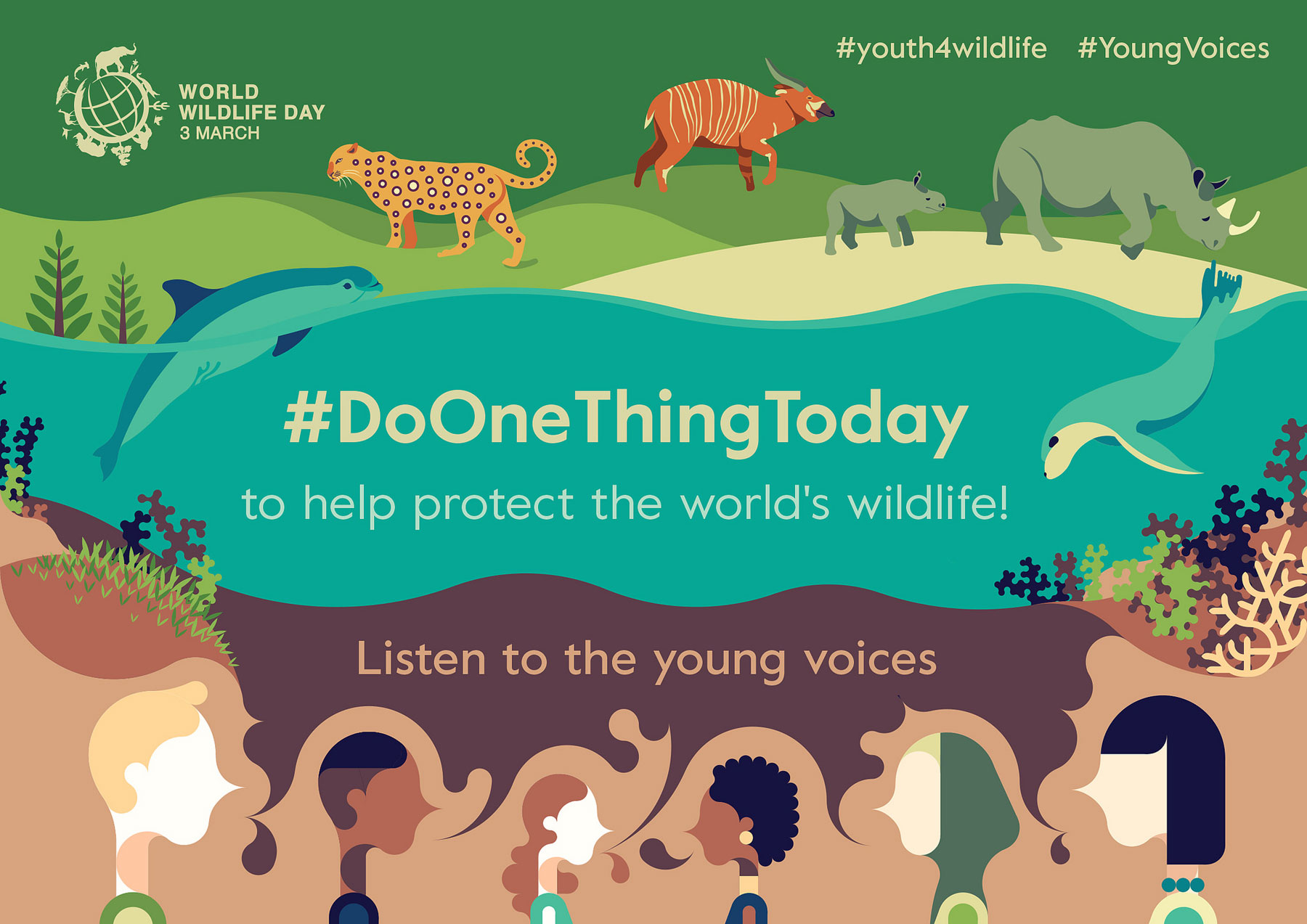 In 2013 the United Nations General Assembly proclaimed 3 March World Wildlife Day in an effort to celebrate and raise global awareness of fauna and flora. On a daily basis, our team aims to educate, inspire and share photos/stories of animals thriving in the wild. We are their onlookers and consider ourselves lucky to observe them roaming free in the wild. Today's "Week in Pictures" coincides with this much revered wildlife event and thus it seems fitting to dedicate the exceptional photographs and stories from our rangers to World Wildlife Day 2017.
This year the day will be celebrated under the theme "Listen to the Young Voices".  A large percentage of the world's human population is placed within the age bracket of 10 – 24, which means the youth of today carries a huge responsibility to make informed decisions and engage in vigorous efforts to protect our wildlife. They're at the prime phase of life to be educated about taking action against wildlife crime and take responsibility for conserving our planet.
It's time to act locally and globally ! Click here to find out how you can get involved in contributing to the plight of our wildlife.
In the meantime, as per World Wildlife Day instructions, we will be posting a few of our week in pictures images to social media websites using the suggested hashtags, which are: #DoOneThingToday, #youth4wildlife , #YoungVoices ,   #WorldWildlifeDay and #EndWildlifeTrafficking. We encourage you to follow suit!
Here's a quick update from our camps.
Cocooned in pristine bushveld and located on the banks of the Sand River, Umkumbe Safari Lodge is the perfect place to enjoy exquisite game viewing. The Sabi Sand Wildtuin is a reserve where leopard species thrive and elephants are in abundance. This week saw the normal sightings of pachyderms, buffalo bulls and the elusive leopard.
The Balule Nature Reserve is an uncrowded private reserve home to the big five and mega prides of lion. Both of the Ezulwini Game Lodges have a skywalk that extends over the bushveld below. This means guests almost always get to observe elephant herds shredding vegetation and wandering underneath the walkway. The waterhole and river is a huge attraction for these giant herbivores!
On World Wildlife Day, Ezulwini is celebrating the high concentration of plains game darting about between the shrubs and woodlands. The presence of plains game also means easy access to food for the large lion prides in the area. The food chain can be cruel !
Xobega Island Camp and Tuskers Bush Camp
The Kwatale Concession is an undiscovered piece of acacia scrub woodland paradise mixed in with a woodland paradise. The vegetation shifts with the landscape, which covers a huge traverse. African wild dogs, elephants, buffalo, lion and leopard all patrol and weave their way through the thickets. Birdlife in Botswana is exceptional and Tuskers Bush Camp is no stranger to epic bird sightings. Xobega Island Camp, being the water wonderland that is, always offers abundant sightings of hippos, crocs and an array of water dwelling birds.
Africa on Foot and nThambo Tree Camp
There have been an unusually high number of leopard sightings on the traverse surrounding Africa on Foot and nThambo Tree Camp. Ross Dam and her cub seem to be dominating sightings at the moment and during the week one of them took down a prickly porcupine. Last night, lions were seen – a welcome break from all of the leopard sightings !
The elite safari life continues in the Klaserie's bushveld.