Between Nxai Pan National Park in the east and Moremi Game Reserve in the west, lies a magical 365 000 hectares of pristine wilderness paradise. This secret tract of land is an adventurer's dream and an explorer's heaven! The area is exclusive to Tuskers Bush Camp, which makes game drives and bush walks a never ending stream of sightings. Accommodation wise, Tuskers ensures exclusivity and privacy for discerning guests. 6 Meru-style canvas safari tents lie spaciously dotted among unforgiving Kalahari Acacia trees, creating a complete archetype of a Botswana safari.
Here are our top 7 reasons to stay at Tuskers Bush Camp:
1. Idyllic Location of Camp: Tuskers  is a sustainable camp overlooking a pan of water which is a year-round, high traffic area for wildlife.  The main areas, which include the dining tent, boma and bar, all overlook the busy pan. Each of the Meru tents overlook the pan, which means when you retire to your tent, you'll enjoy fantastic night sightings of animals in the raw and rough wild.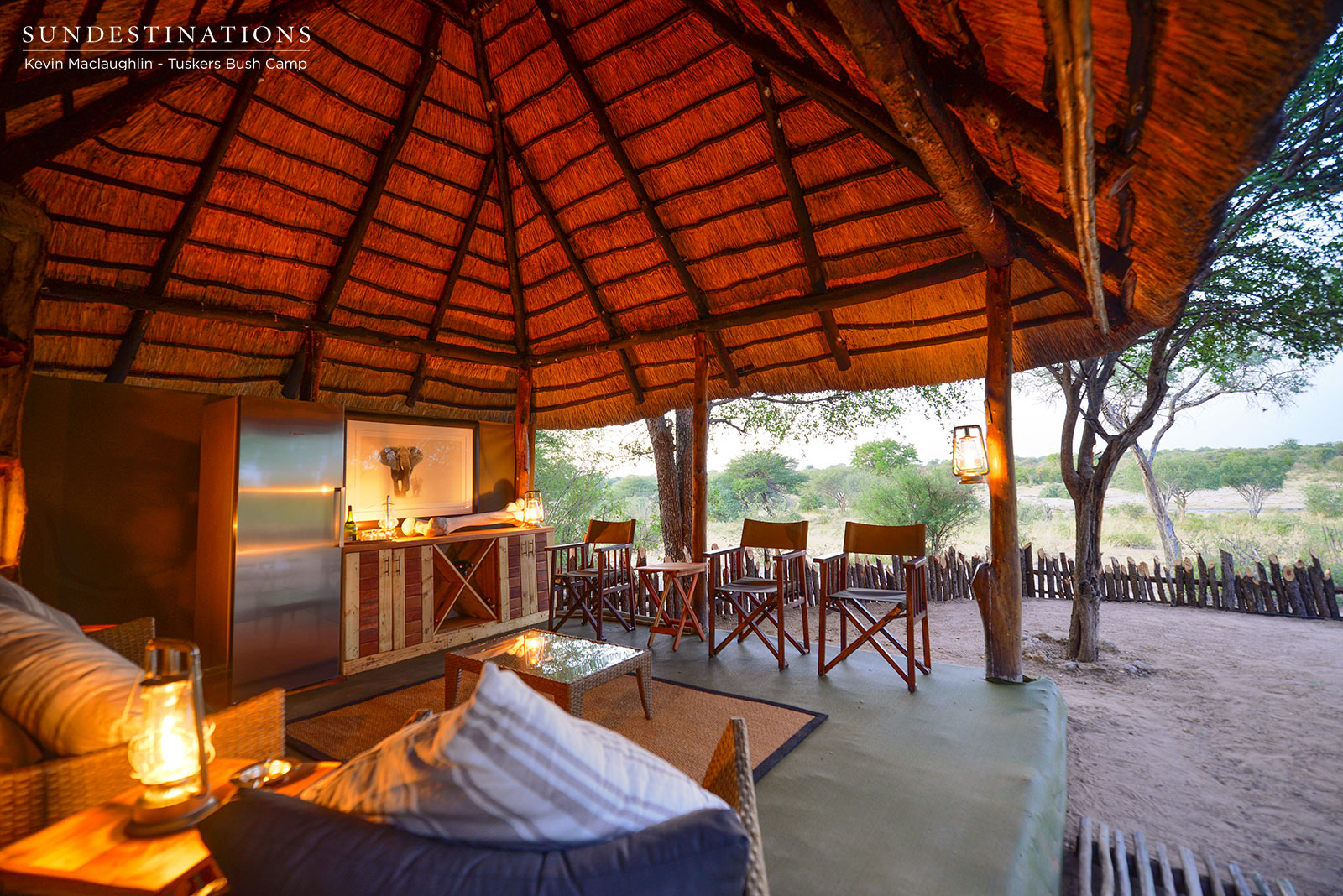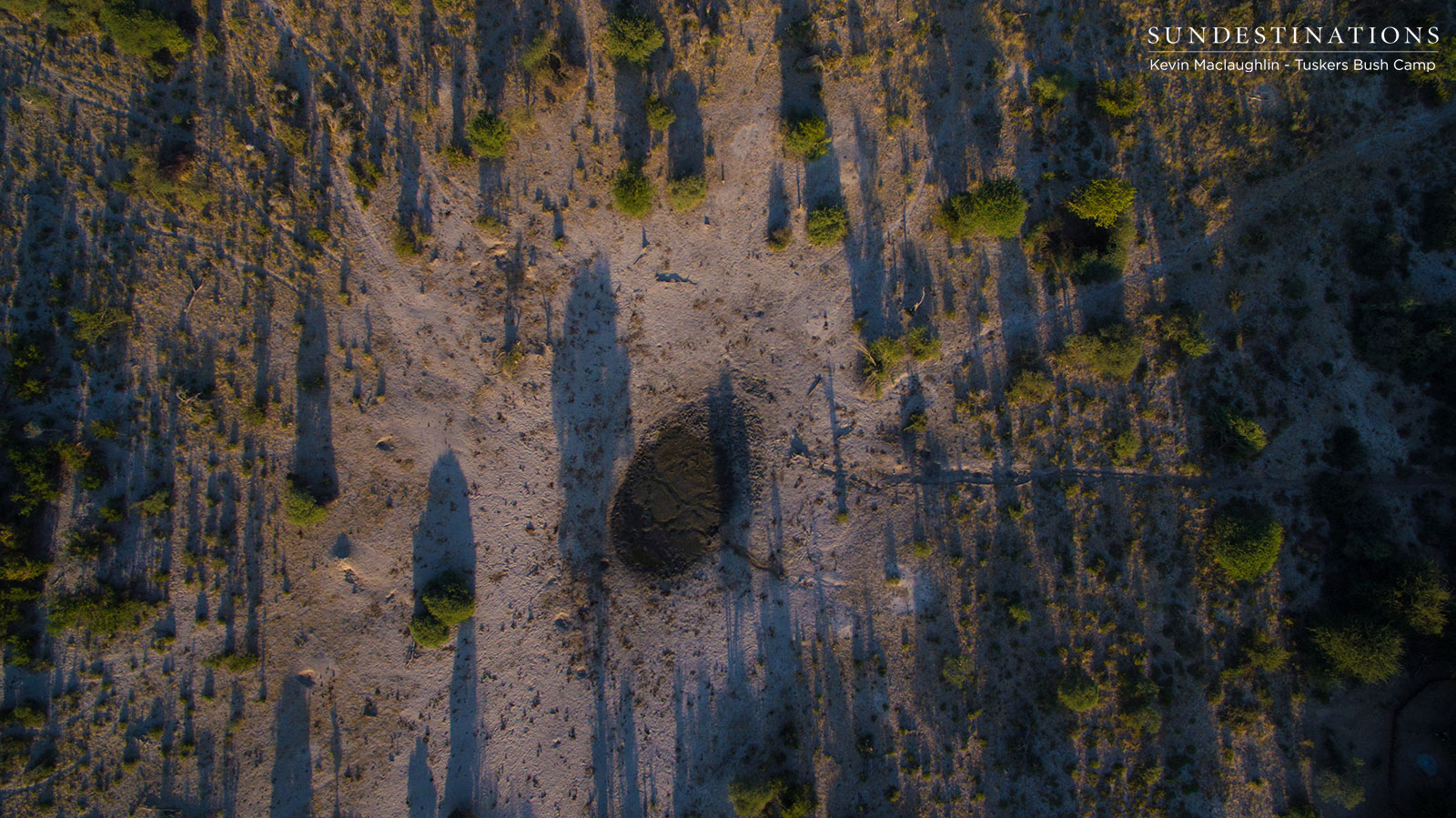 2. A Massive and Exclusive Traversing Area: With roughly 365 000 hectares of land, there is obviously an incredible diversity of fauna and flora. Mixed woodland and Kalahari scrub provide a fantastic bio-diversity for a range of wildlife. The huge traversing area also provides incredible insight into the mixed landscape of Botswana. As a safari destination, Tuskers really is hard to match.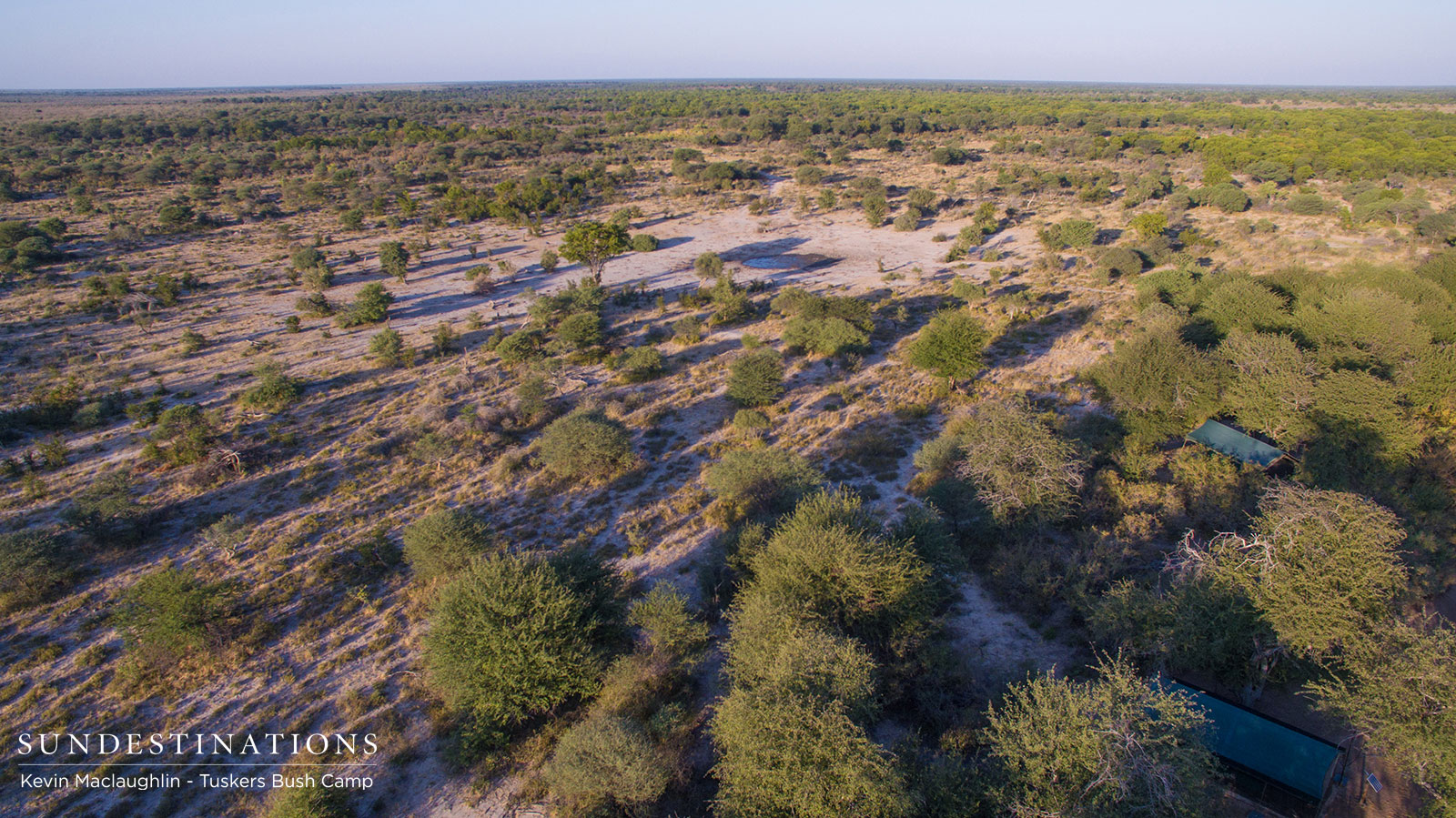 3. Variety of Game Viewing: Because of the incredible geography of the landscape, many species are able to survive and thrive in the region.  Expect to see roan, sable, kudu, impala, steenbok, duiker, bushbuck, zebra, wildebeest, tsessebe, wildebeest, buffalo, lion, leopard, wild dog, cheetah, jackal, caracal, serval, genet, civet cat and a host of other mammals. There are also hundreds of species of birds which certainly attracts an avid community of birdwatchers to the area.
4. Range of Activities on Offer:  Guests visiting Tuskers can also enjoy full day safaris into Khwai and Moremi Game Reserve, so this adds an even greater dimension to your safari experience.
5. Easily Accessible for Self-Drive Safaris: It is tricky to find a self-drive safari destination in Botswana, but Tuskers Bush Camp is easily accessible for those wishing to self-drive. There are also fly-in options available, which means visitors with varying budgets can enjoy the perfect Botswana safari without being concerned about cost.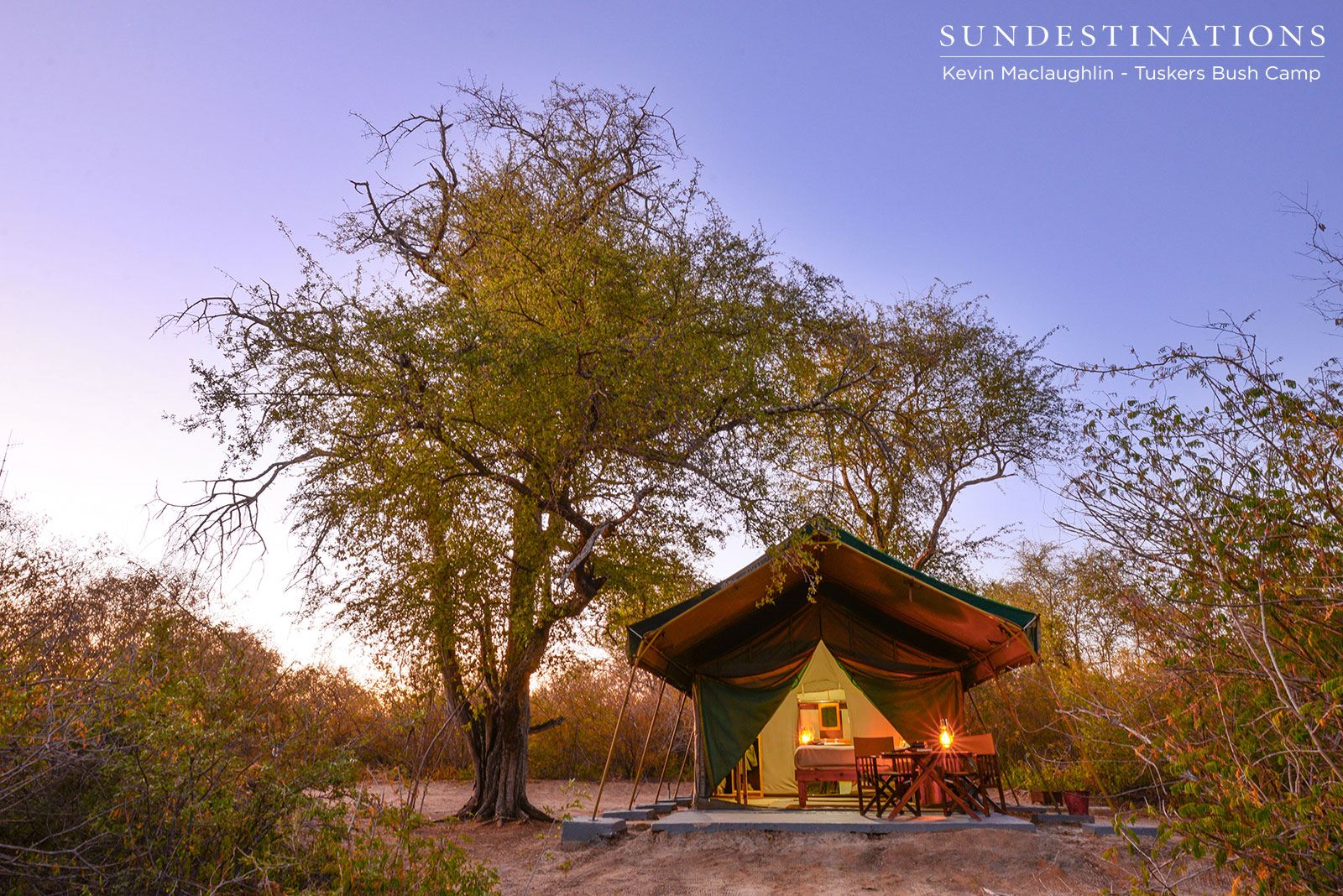 6. Huge Conservation Efforts: Tuskers is also helping Botswana's wildlife and conservation efforts by promoting photographic safaris in an area which was once reserved for hunting.
7. Unique Wildlife Interactions: Over the past few weeks, Tuskers have witnessed a leopard give birth in the camp and raise her cub around the area. The rare and endangered African wild dog was seen hunting impala and taking down a kudu. The pan is visited daily by massive herds of buffalo and elephants.
There are huge, huge elephant bulls frequenting the pan – we're not surprised that the camp is called "Tuskers"!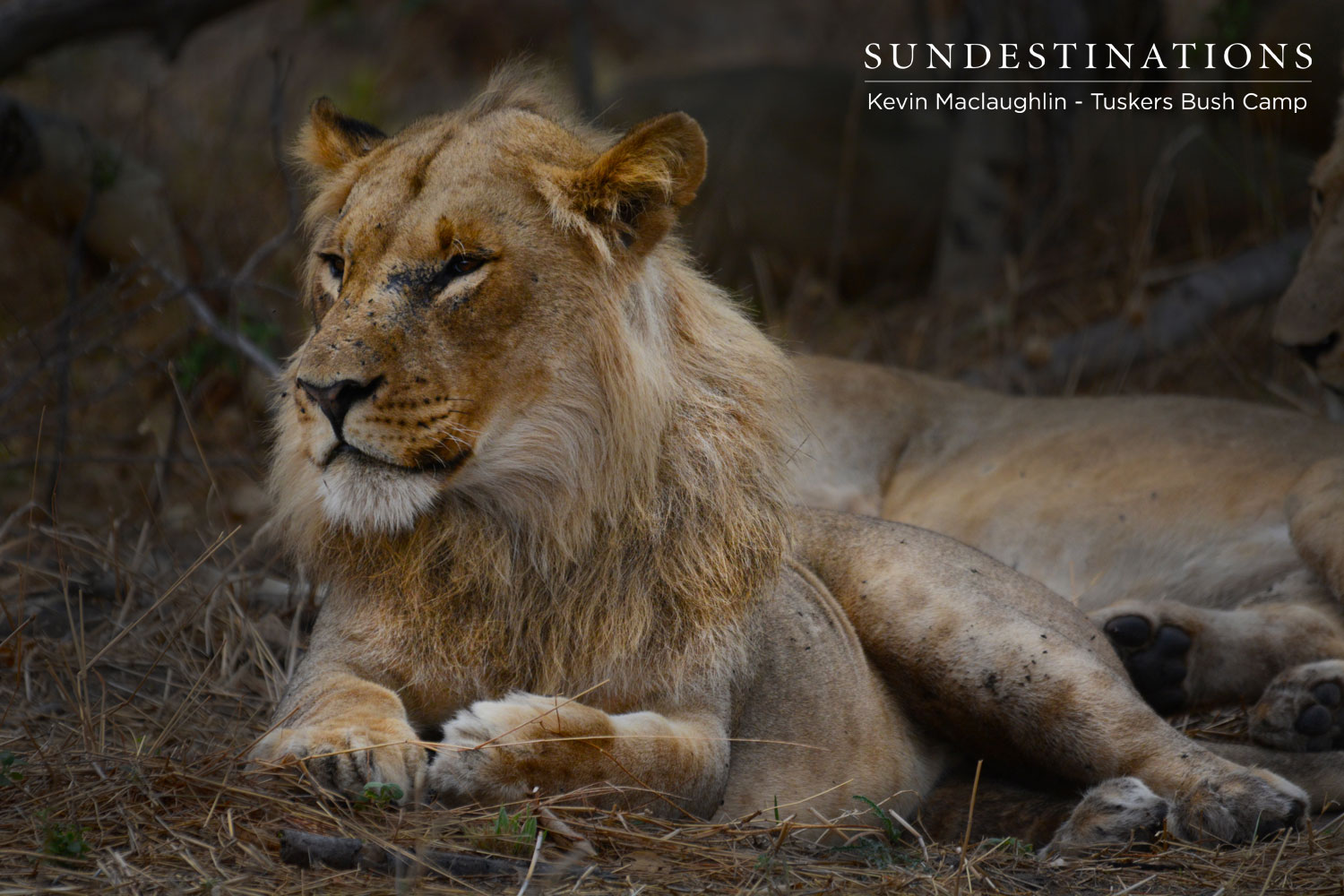 For your ultimate Botswana safari to suit your taste and budget, please contact reservations@sundestinations.co.za. We're awaiting your email !